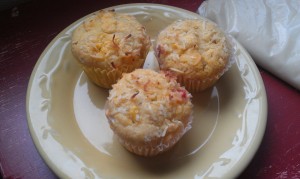 Submitted by: Sheela Terry
Image (c) Sheela Terry
"This Amish Friendship Bread is beautiful and full of fruity flavors."
Prep Time: 15 minutes
Cook Time: 20 minutes
Servings: 30
Yield: 30 muffins
Ingredients
1 cup Amish Friendship Bread Starter
3 eggs
1/2 cup oil
1/2 cup applesauce
3/4 cup sugar
1/2 teaspoon Peach/Mango flavored Kool-Aid (about 1/2 a package)
1/2 teaspoon baking soda
1 1/2 teaspoon baking powder
2 cups flour
1 small boxes instant cheesecake flavor pudding mix
1 cup chopped fresh or frozen peaches
1 cup chopped fresh or frozen mangos
1 cup of shredded coconut, optional to save and top before baking
Directions
Preheat oven to 350° F (175° C).
In a large mixing bowl, add first 4 ingredients.
In a separate bowl mix together dry ingredients.
Combine dry ingredients with wet ingredients. Batter will be thick.
Fold in fruit.
Line 30 muffin tins or grease and dust with a mixture of 1/2 cup sugar and second 1/2 of Kool-aid packet.
Fill muffin tins halfway and sprinkle the top with coconut or more of the sugar-Kool-aid mixture.
Bake for 20 minutes or until a toothpick inserted in the center of the muffin comes out clean.
ENJOY!
Kitchen Notes
From Sheela: "This recipe has significantly lessr liquid from the traditional recipe. The batter will be think but it makes the muffins a little more cake-like and counters the addition of the fruit. The applesauce can also be changed out for mashed banana for yet another fruit addition. Instead of using the Kool-aid, use 1 teaspoon of rum flavoring."