Hi Kitchen Friends!
Spring is in the air so I'm celebrating with a fun blog hop! Hop around and you'll find 10 days of gardening tips, recipes, 75 great giveaways and one amazing grand prize: a Kindle Fire or Nook (winner's choice) along with a $25 gift card to get books for your new eReader.
For those of you visiting the Friendship Bread Kitchen for the first time, welcome! The Friendship Bread Kitchen is my virtual kitchen, launched as I was writing and researching my novel, Friendship Bread. It was published last April by Ballantine Books and the sequel will be out in 2013. There are over 200 Amish Friendship Bread recipes on the website (see the Recipe Box) which makes it fun for book clubs. The Kitchen's Facebook page is 70,000 strong, and I invite you to come find me there, too!
Darien's Garden Tip: Grow Rosemary
Even if you don't have a green thumb, rosemary is one of the easiest herbs to cultivate and grow. Keep it on your window sill or plant it outdoors. Unlike many other herbs, this low maintenance herb will always be ready for your next recipe and serves as a pretty ornamental in the meantime. You can try to grow it from a cutting from a friend's rosemary bush, but for fast and easy results, I recommend buying a small pot from a nursery for a couple of dollars (many grocery stores sell them too). A little rosemary goes a long way: you can sprinkle it, rub it, use it as a skewer. Better yet, chop it up and use it in our Rosemary Lemon Olive Oil Amish Friendship Bread (click for the full recipe)!
Rosemary bush in Darien's backyard in Hawaii.
Rosemary Lemon Olive Oil Amish Friendship Bread
The Friendship Bread Giveaway! (giveaway ended)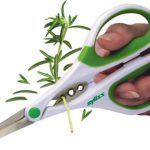 I have a great giveaway for those of you participating in the blog hop! One winner will receive a hardcover copy of my novel, Friendship Bread, and a pair of Zyliss herb scissors.
To qualify, all you have to do is:
Head over to Amazon and give it a thumbs up ("Like"): http://www.amazon.com/Friendship-Bread-Novel-Darien-Gee/dp/0345525345/ref=tmm_hrd_title_0?ie=UTF8&qid=1330982762&sr=8-1
To be qualified to win: Leave a comment below telling us that (a) you gave the book a thumbs up (let us know what # thumb you were!), (b) your favorite dessert, and (c) where you're from. That's it! (note: all actions must be completed to qualify to win)
Bonus entries: Follow me on Pinterest, Twitter, Darien on Facebook, Friendship Bread Kitchen on Facebook, give the Darien Gee author page on Amazon a "Like" (tell us your "Like" or thumbs up #) and/or subscribe to the Kitchen newsletter. Leave a comment on each action you complete. Bonus entries are for new likes and follows beginning 4/9/12.
Open to (US/CAN/INTNTL) Kitchen Friends.
If you want to win the grand prize (a Kindle or Nook), you need to take our two short phrases
Line 72: Consider instead, the bees.
Line 73: They're willing to work hard for your nectar!
and go find the phrases on all the other participating blogs.  Assimilate all the phrases into the complete passage:  "Authors in Bloom," a vignette about a women's personal growth and empowerment.
The tour ends April 18th at 11:59pm EST and then the winners will be picked. (see winners below)
If you're new to blog hopping (like me), here's a link that'll give you a little more info on how it all works: Authors in Bloom Spring Blog Hop. If you want to visit my Mia King website and contest, click #67 below. Good luck, everyone, and thanks for stopping by! Here is the list of participating authors for those of you going for the big prize:
This giveaway is now closed. Thanks to all who entered. The winner of a copy of Friendship Bread by Darien Gee and Zyliss herb scissors is comment #25, Beth T. from Clatskanie, Oregon. Congratulations, Beth. Please send us your mailing address via the Contact Form on our website. Thank you!