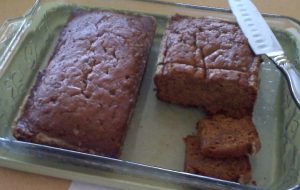 Submitted by: Linda Delescale
Image (c) Linda Delescale
"This Amish Friendship Bread is creamy and sweet! Serve with a tall glass of milk."
Prep Time: 10 minutes
Cook Time: 60 minutes
Servings: 12
Yield: 2 loaves
Ingredients
1 cup Amish Friendship Bread Starter
1 cup oil
1/2 cup milk
3 eggs
1 teaspoon vanilla
2 cups flour
1 cup brown sugar, lightly packed
1 1/2 teaspoons baking powder
1 teaspoon cinnamon
1/2 teaspoon baking soda
1 (5.1 oz) box instant butterscotch pudding
1/2 teaspoon salt
1 cup toffee chips
Directions
Preheat oven to 325° F (165° C).
Mix all wet ingredients together.
Mix dry ingredients together.
Add dry ingredients to wet. Mix well.
Grease two large loaf pans and lightly sprinkle a few toffee chips.
Dust the greased pans with a mixture of 1/2 cup sugar and 1/2 teaspoon cinnamon.
Pour the batter evenly into loaf or cake pans, sprinkle the remaining sugar-cinnamon mixture and top with toffee chips.
Bake for one hour or until the bread loosens evenly from the sides and a toothpick inserted in the center of the bread comes out clean.
ENJOY!