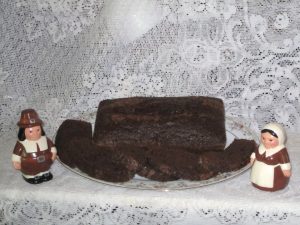 Submitted by: Cynthia Skelton (Murfreesboro, TN)
Image (c) Cynthia Skelton (Murfreesboro, TN)
"This spicy pumpkin and dark chocolate bread is perfect for any Thanksgiving buffet."
Prep Time: 15 minutes
Cook Time: 60 minutes
Servings: 20
Yield: 2 loaves
Ingredients
1 c. Amish Friendship Bread Starter
3/4 cup oil
1/2 cup milk
3 eggs
1 teaspoon vanilla
1/2 cup pumpkin
1/4 cup dark cocoa powder
2 cups all purpose flour
1/2 cup white sugar
1/2 cup brown sugar
1 1/2 teaspoons baking powder
1/2 teaspoon salt
1/2 teaspoon baking soda
1 1/2 teaspoons pumpkin pie spice
1 1/2 boxes instant butterscotch pudding
Directions
Preheat oven to 325° F (165° C).

In mixing bowl stir together oil, milk, eggs, vanilla and pumpkin. Mix well.
In another bowl combine flour, sugars, baking powder, salt, baking soda, pumpkin pie spice and butterscotch pudding.
Combine dry ingredients into the wet ingredients. Mix well.
Grease or spray 2 large loaf pans with cooking spray.
Dust the greased pans with half of the sugar-cinnamon mixture of 1/2 cup sugar and 1 1/2 teaspoon cinnamon.
Pour the batter evenly into loaf or cake pans and sprinkle the remaining sugar-cinnamon mixture on the top.
Bake for one hour or until the bread loosens evenly from the sides and a toothpick inserted in the center of the bread comes out clean.
ENJOY!
Kitchen Notes
From Cynthia Skelton (Murfreesboro, TN): "Regular cocoa powder can be substituted for the dark cocoa. It will produce a lighter looking loaf."