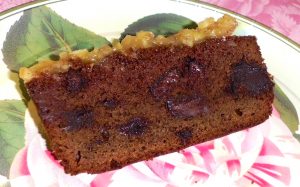 Submitted by: Debbi Smith | Debbie Does Dinner Healthy
Photo (c) Wilma Kirk Lee (Houston, TX)
"For German Chocolate Cake lovers!"
Recipe at a Glance
omit cinnamon
substitute chocolate instant pudding for vanilla
reduce oil to 1/2 cup
add 1/2 cup applesauce
add 1 cup semi-sweet chocolate chips
top with coconut pecan frosting
Prep Time: 15 minutes
Cook Time: 1 hour
Servings: 16
Yield: 2 – 8 x 8 cakes
Ingredients
1 cup Amish Friendship Bread Starter
3 eggs
1/2 cup oil
1/2 cup applesauce
1 cup sugar
1 teaspoon vanilla
1 1/2 teaspoons baking powder
1/2 teaspoon baking soda
1/2 teaspoon salt
2 cups flour
2 small boxes chocolate instant pudding
1 cup semi-sweet chocolate chips
Coconut Pecan Frosting
Directions
Preheat oven to 325° F (165° C).
In a large mixing bowl, add ingredients as listed.
Grease and sugar two 8 x 8 cake pans.
Pour the batter evenly into cake pans.
Bake for one hour or until the bread loosens evenly from the sides and a toothpick inserted in the center of the bread comes out clean.
Spread coconut pecan frosting on cake while warm.
ENJOY!
Kitchen Notes
From Wilma Kirk Lee: "We are a family of confirmed Chocoholics. I think the next time, I may add more applesauce or some milk to make it a little more moist. It sliced very easily and it held its shape."
Photo Gallery