Looking for something to read while you sip some tea and nibble on chocolate? Have I got a goody bag for you!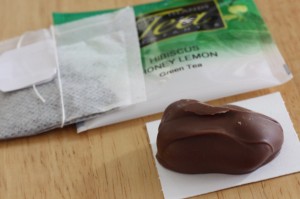 I love to receive small treats in the mail. A surprise letter, an unexpected package, a postcard from an old friend.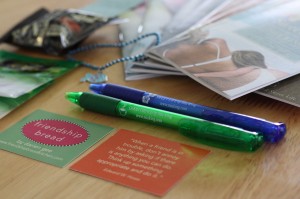 This sweet reader goody bag includes first chapters from all my books (Friendship Bread by Darien Gee; Good Things, Sweet Life, and Table Manners written as Mia King), logo pens, a couple of tea bags, a chocolate covered macadamia nut, some friendship quote cards, a charm or bookmark. There may be some crafty scrapbooking embellishments, too (a fabric flower, patterned paper, a button of two from my button collection, die cut tags, random ephemera, a vintage knickknack, fabric scraps or ribbon trim) in honor of my next book, Memory Keeping, the sequel to Friendship Bread. The package will be small, unique, and whimsical … perfect for you creative book lovers out there!
This is a cumulative giveaway, which means once you're entered, you're qualified for all future reader goody bag giveaways on this contest post. I'll draw FOUR winners each time, with two winners posted on the Mia King Facebook page and the other two on the Darien Gee Facebook page.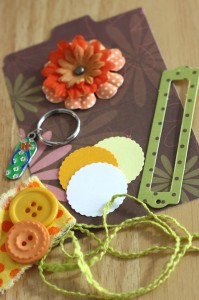 If you like reading and like my books (or want to try them), just like both of my author pages and come back and leave a comment below telling me (1) that you've done so, (2) your favorite color, and (3) where you're from (city, state, and country if live outside of the US).
Only entries that include all three pieces of information are qualified to win (remember to post HERE and not on the Facebook pages). Each packet will be different and the contents may vary, but it will be fun and delightful, I promise!
The current one-day reader goody bag giveaway has ended.

Remember, the winners will be posted on the Facebook pages the following day so be sure to check to see if you've won.
Thank you for reading, and for your love of books and for the authors who write them. I appreciate all of you!
xoxo
Darien
The winners for the September 15, 2011 giveaway are (I included some bonus winners because there was such a great response):
Alicia Robinson (Florida)
Vickie Sheridan (Missouri)
Melanie Whitehurst (Western Australia)
Shannon Yun (Arizona)
@eHope (bonus winner) (Canada)
Mary Fury (bonus winner) (West Virginia)
Please send me your mailing address via our Contact Form with "Reader Goody Bag Winner" in the subject line and mention your favorite color again. Thank you to everyone who entered, we'll do it again soon!