I still have copies of the Australian edition of Friendship Bread, so I thought I'd host an impromptu giveaway this weekend!
I'm saving a few copies for myself and the kids, but otherwise would love to put them in the hands of avid readers! If the book doesn't look familiar to it, it may be because my Australian cover (left) is quite a bit different from the US cover (right):
This giveaway is for one signed copy of Friendship Bread. It starts today and ends on Monday August 29, at 11:59 pm EST.
All you have to do is click on any of the links below and leave a comment about Darien, the book, or Amish Friendship Bread. Then come back here and let us know (1) where you're from and (2) where you've left your comment.
Qualifying Australian contest links for FRIENDSHIP BREAD are:
"Like" Dymocks on Facebook and leave a comment about Darien Gee or the book (because there are so many book titles on the site, be sure to reference back to Darien and her novel, FRIENDSHIP BREAD, in your comment — if you've read it, let them know!)
Adelaide Now: Susie O'Brien writes about how people need each other more now than ever … and mentions Darien's book, Friendship Bread, as an inspiration. Leave a comment and reference back to Darien and Friendship Bread.
Book review at Whip Up (a lovely blog for you crafters out there!)
Enjoy your virtual visit to Australia and have a great weekend, everyone!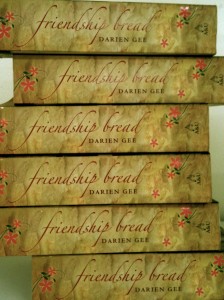 PS. And yes, there are Amish Friendship Bread recipes in the book. Instructions, too!
This contest has ended. Thanks to all who entered. Congratulations to the winner, comment #52 Laura Tarasoff from Coupeville, Washington. Please send us your mailing address via the Contact Form on our website.