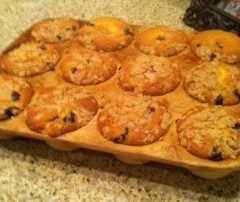 Submitted by: Helen Nicholson
Image (c) Helen Nicholson
"This crunchy topping is perfect on top of the Amish Friendship Bread blueberry muffins."
Ingredients
1/4 cup brown sugar
1/4 cup butter
1 teaspoon cinnamon
1/4 cup flour
Directions
Blend the ingredients together with two forks until crumbly.
Add more flour if the mixture is balling together.
Add the the streusel topping on top of each muffin before baking.
Bake the muffins for at least 10 minutes longer than the recipe calls for to make sure the topping is cooked.