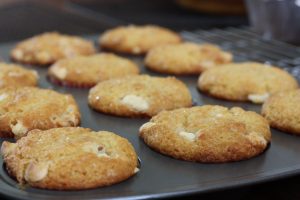 Submitted by: Friendship Bread Kitchen
Image (c) Friendship Bread Kitchen
"The fair maiden of Amish Friendship Bread."
Prep Time: 15 minutes
Cook Time: 1 hours
Servings: 16
Yield: 2 loaves
At a Glance
omit cinnamon
substitute cheesecake instant pudding for vanilla instant pudding
add 1 cup chopped macadamia nuts
add 3/4 cup white chocolate chips
Ingredients 
1 cup Amish Friendship Bread Starter
1 cup milk
1 cup sugar
1/2 teaspoon vanilla
1 1/2 teaspoons baking powder
1/2 teaspoon salt
1/2 teaspoon baking soda
1 cup oil
3 eggs
2 cups flour
1-2 small boxes cheesecake instant pudding
1 cup macadamia nuts, chopped
3/4 cup white chocolate chips
Directions
Preheat oven to 325° F (165° C).
In a large mixing bowl, add ingredients as listed.
Grease two large loaf pans.
Dust the greased pans with granulated sugar.
Pour the batter evenly into loaf or cake pans.
Bake for one hour or until the bread loosens evenly from the sides and a toothpick inserted in the center of the bread comes out clean.
ENJOY!
Kitchen Notes
You can add a little visual interest to this loaf by sprinkling some chopped macadamia nuts on top of the loaves before baking. The nuts will brown nicely and look lovely!
Image Gallery
From L to R: (c) Friendship Bread Kitchen