It's starting to smell a lot like Amish Friendship Bread…'tis the season, after all!
I'm so excited to announce The 10 Days of Amish Friendship Bread Giveaway. It starts on Tuesday, December 8th and runs until Thursday, December 17th. Each day we'll check in on our starter, highlight an Amish Friendship Bread recipe, offer a kitchen tip or two, and give something cool away. It's my way for thanking you (yes, YOU!) for being a part of the Friendship Bread Kitchen.
I'm especially excited about this because I have four amazing guest food bloggers who currently have starters bubbling on their counters. They'll offer their take on an Amish Friendship Bread recipe. Hey, why don't you dust off that apron and come bake with us? The more, the merrier!
10 Prizes, 10 Recipes, Lots of Ways to Enter!
Here's how it works:
Each day a new post will go up. Come check it out and enter to win. Yup, it's that easy.
Winners must be 18 years or older; only U.S. and Canadian citizens are eligible.
We are using Rafflecopter to run our giveaways. Follow the instructions on how to enter (and how to qualify for multiple entries) once the giveaways go live. All eligible entries must include a blog comment.
You can enter as many giveaways and as many times (as allowed).
All giveaways will end on December 17, 2015 (Day 10) at 9:00 pm PST.
Winners will be chosen at random by Rafflecopter and posted on our website on December 19, 2015 within 48 hours. ALL ENTRIES WILL BE VERIFIED and any incomplete entries will be disqualified. Winners will have 48 hours to accept otherwise we go to the next name on the list.
We'll be giving away copies of our e-cookbook and Friendship Bread novels, kitchen utensils and bakeware, an Italian glass container to store your starter, a $25 Amazon gift card, and more. Plus we have a grand prize (on Day 10) … a 6-Piece Calphalon Bakeware Set. ♥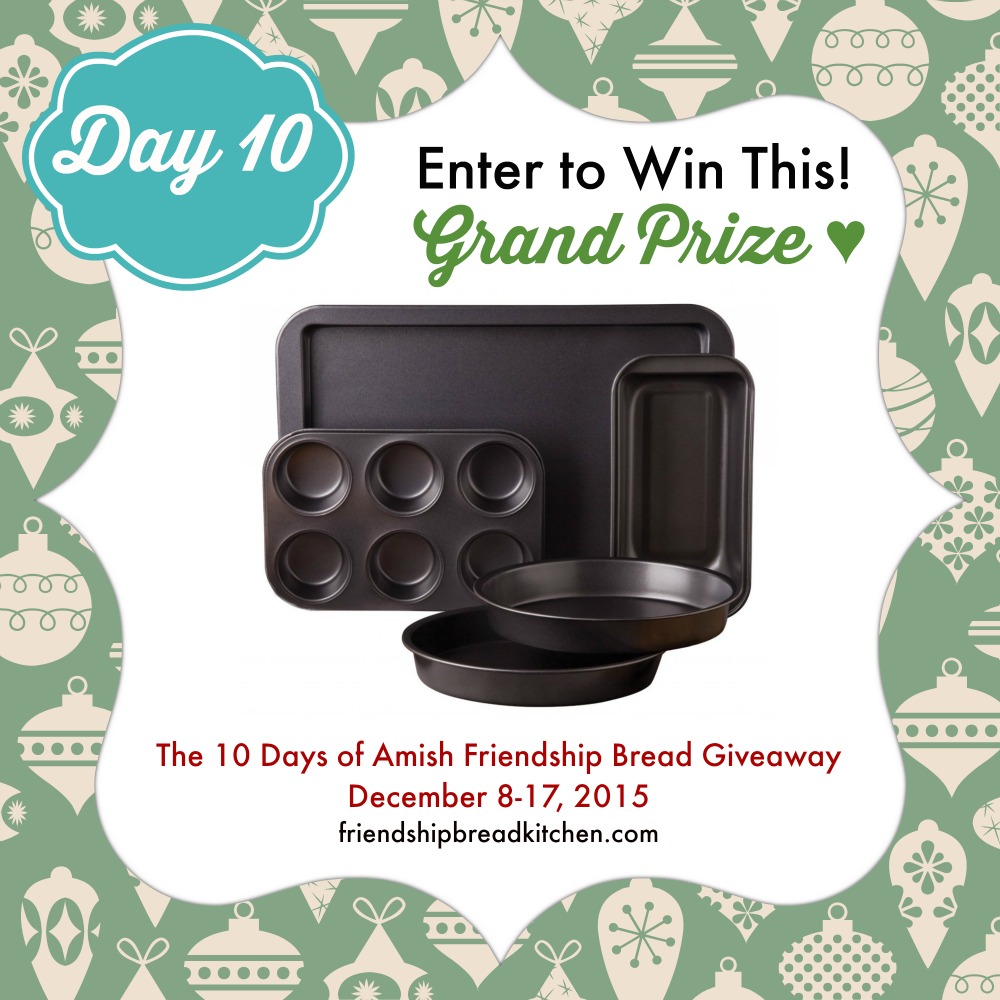 Here's what you can expect over the next 10 days (links will go live on that day–if you'd like to be notified of when this happens, check the box below the comment section that says "Notify me of new posts by email"):
Day 1: Receive or make your starter + giveaway (12/8/15)
Day 2: Mix or mash + giveaway (12/9/15)
Day 3: Mix or mash + giveaway (12/10/15)
Day 4: Mix or mash + giveaway (12/11/15)
Day 5: Mix or mash + giveaway (12/12/15)
Day 6: Feed your starter. Then mix or mash + giveaway (12/13/15)
Day 7: Mix or mash + giveaway (12/14/15)
Day 8: Mix or mash + giveaway (12/15/15)
Day 9: Mix or mash + giveaway (12/16/15)
Day 10: Feed your starter, divide your starter, bake your bread, share it with others + grand prize giveaway (12/17/15)
I hope you'll join me in kicking off a very merry season for all of us. Grab your starter (or join us in making one tomorrow) and let's get baking!
>> If you're new to Amish Friendship Bread, check out What is Amish Friendship Bread?