If you're making Amish Friendship Bread, most likely someone gave you the starter!
I know from my own experience that people have a love/hate relationship with Amish Friendship Bread and its ubiquitous starter. Tell us the story of how the starter  came into your life (for example: who gave it to you, what you did with it, how long you've had your starter, what you like to make with it) and you could win a Bormioli Fido Clear Glass Jar with lid!
The Italian-made Bormioli Rocco 1.5 liter jar is a favorite among sourdough bakers. It's perfect for storing your Amish Friendship Bread starter — just give your starter a quick stir once a day!
Clear glass hermetic jar allows you to see your starter clearly.
1.5 litre/1.59 quart capacity
4 1/4″ square x 8 3/4″ H
Metal clamp and gasket seal helps keep starter fresh and contaminant-free
Made in Italy
This contest started on our Facebook page and there are so many wonderful stories there, too. If you're ever having a down day, just read through those stories and it'll be sure to put a smile on your face! They're posted in our Facebook Discussion tab, "Who Gave You Your Starter?"
February 2011 winners!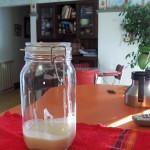 Carol B. VanderNat, who received her first start in the late 1970's from "a sweet little old lady in the church I attended." The woman has since passed and Carol adds, "Now I'M the old lady!" She enjoys sharing it with her children, nephews and nieces, and the bread is now considered "cool" and that their friends "are begging for starter!" When she received her jar, she put her starter in it and sent us a picture: "It sure looks a lot cooler than a plastic bag!"
Shanyn Vitti Avila, whose favorite clients first gave her starter. "One Christmas, beset with worries over gifts, my husband and I turned it into gifts for our family, friends, and neighbors. We made Chocolate Chip, Caramel, Banana, Cinnamon and nutmeg and several other flavors from that humble little starter. We bought mini bread tins and wrapped them festively and put one lovingly at every place setting, on the doorsteps of our friends, and surprise gifts for my other clients. That was the most fun (me) and work (hubby) we have ever had."
The March contest has not yet been announced: stay tuned on Facebook or Twitter or check back in the next week!