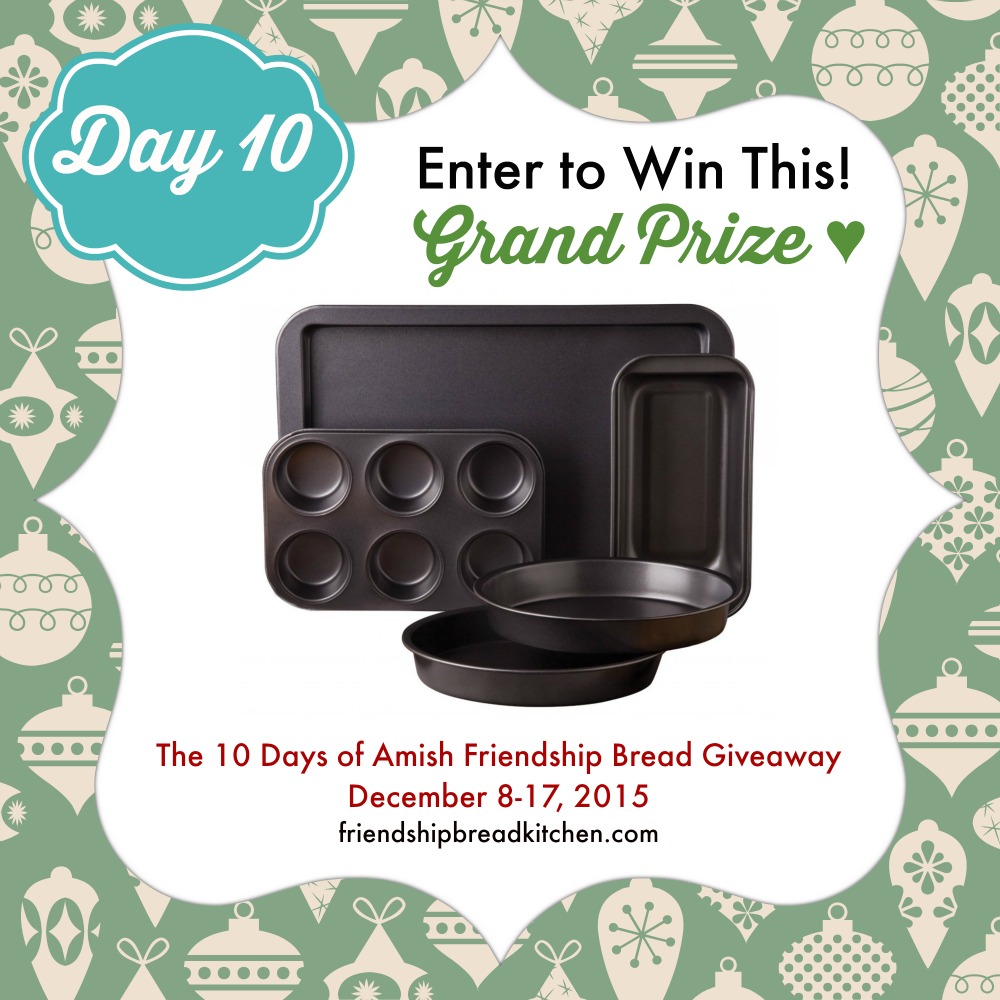 It's Day 10 of the 10 Days of Amish Friendship Bread Giveaway! The first 9 giveaways are still open for entries, so enter them now if you haven't already. All 10 giveaways close today at 9:00 pm PST. This is it, our final stretch!
In Amish Friendship Bread lingo, Day 10 is our last day of the Amish Friendship Bread process. We've cared for our starter with lots of mixing and mashing, plus a feeding on Day 6. It's now ready. IT'S READY!!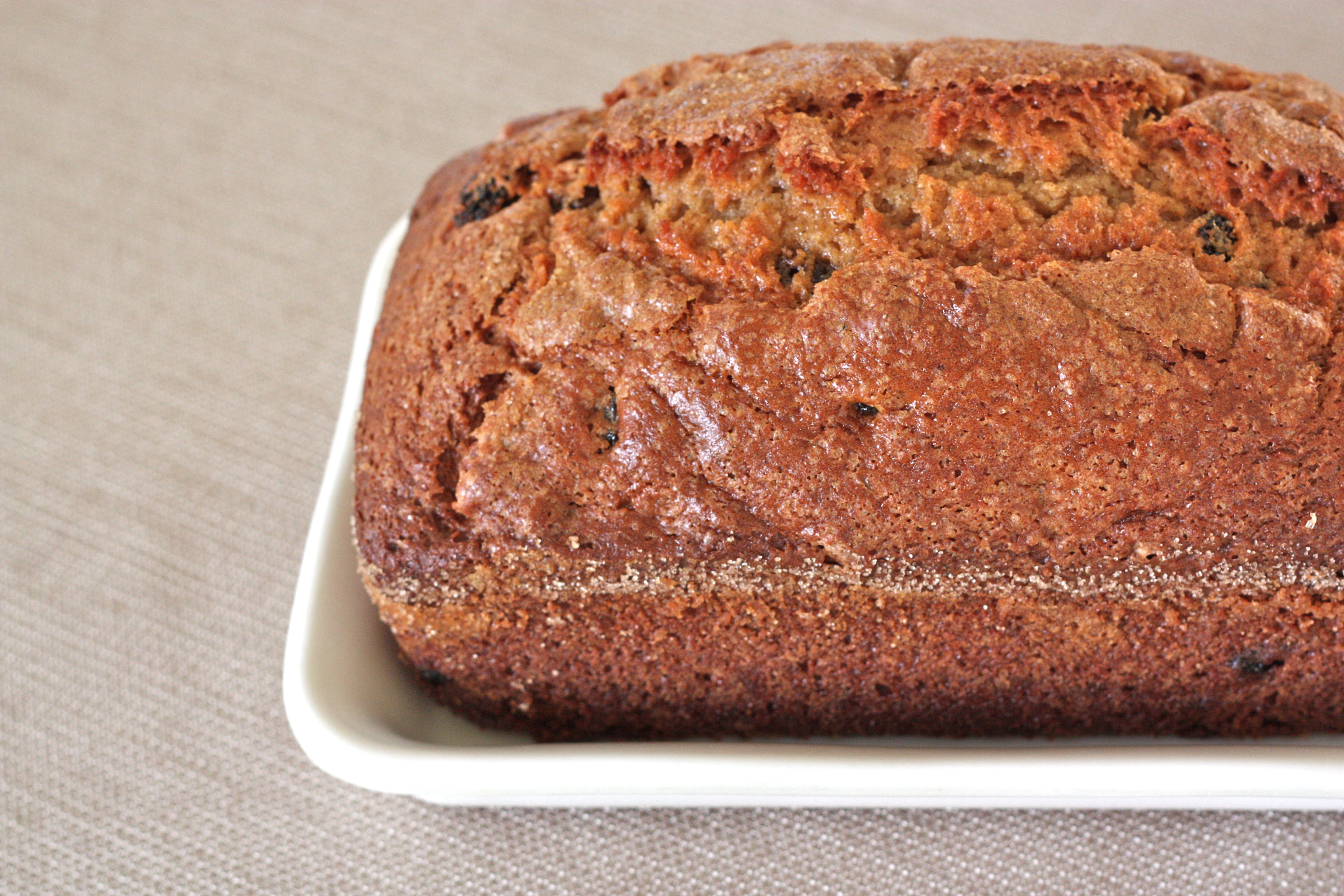 If it's your first time making Amish Friendship Bread, stick with the original recipe. It's excellent, and it's the reason why Amish Friendship Bread has hung around for as long as it has, despite food trends coming and going. But don't just grab that recipe just yet, because you have to FEED and DIVIDE your starter first.
First, if it's in a Ziploc bag, pour the contents into a mixing bowl (no copper or untreated metals).
Second, add 1½ cups flour, 1½ cups sugar, 1½ cups milk. Give it a good stir, mixing until all ingredients are fully incorporated into the starter.
Third, measure out equal ports of 1 cup each into 1 gallon Ziploc freezer bags, reserving one cup of starter in your mixing bowl. If you received your starter from another person, you'll end up with approximately 4 bags. If you made your starter from scratch, you could end up with as many as 7 bags. 
Take a Sharpie permanent pen and write "Amish Friendship Bread" on the bag, as well as the date. Next to the date, write "Day 1." That's right: your Day 10 is someone else's Day 1. It's cool in a circular, Zen kind of way.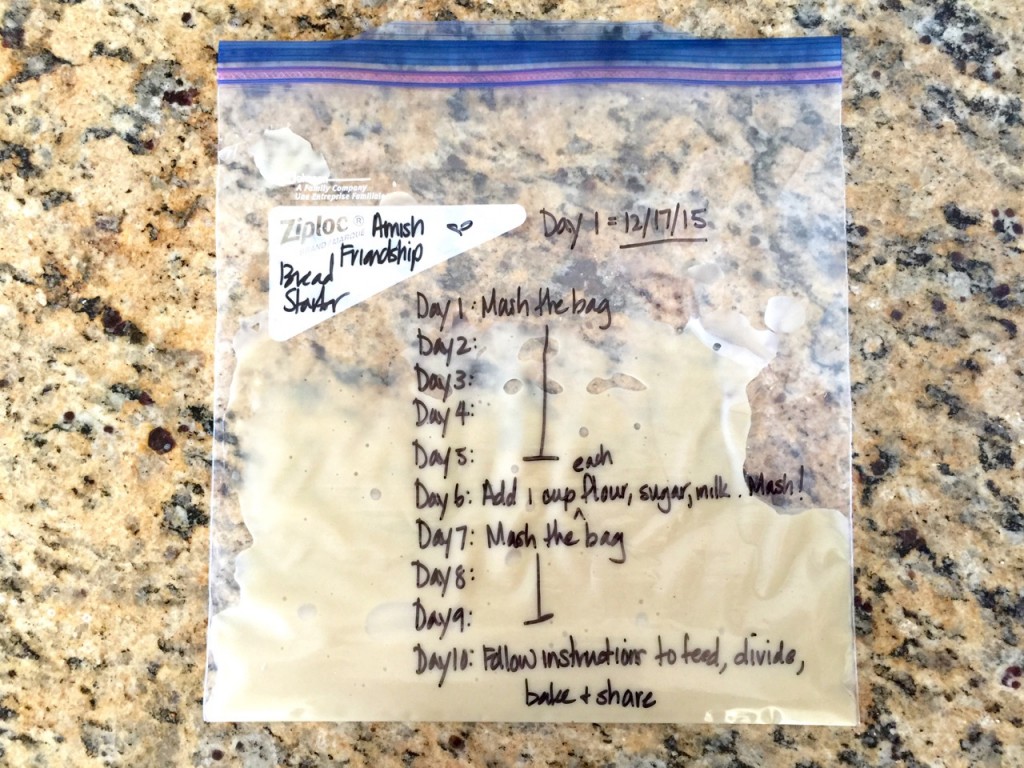 Some people write out the next ten days and dates, so the recipient will know when it's time to bake. You can give the bags of starter to people with a copy of the instructions and a loaf of the bread (make mini loaves if you plan to give all your starter away). You can toss the bags into the freezer to save for future use. You can keep one of the starters at room temperature and start the whole process all over again. Many of us do!
You are now FINALLY ready to bake! Use the remaining cup of starter in your mixing bowl to make the original Amish Friendship Bread recipe, or choose another recipe from our Recipe Box.
Today is the last day of the 10 Days of Amish Friendship Bread, and I hope you had a great time. All giveaways close today, including our Grand Prize, this awesome 6-piece nonstick bakeware set from Calphalon.
We'll notify winners within 48 hours from the close of the giveaways, and they (maybe you!) will have 48 hours to accept. We'll post the list of winners on December 19, along with a surprise. Thank you for being with me these past 10 days!
Day 10: Feed, divide, bake and share
Recipe: The Original Amish Friendship Bread Recipe
Grand Prize Giveaway: Calphalon Nonstick Bakeware Set, 6 Pieces
Heavy-gauge steel core won't warp and heats evenly without hot spots so your cookies and cakes come out of the oven perfectly and evenly browned.

The interior of each piece has interlocking non-stick layers that are designed to deliver long-lasting, high-performance release. Releases up to 2X better than Calphalon Classic Bakeware.

Nonstick finish is beautiful and practical. The lighter color makes it easier to prevent overbrowning.

Includes (2) 8-inch round cake pans, 9- by 13-inch cake pan, medium loaf pan, 12-cup muffin pan, and 10- by 15-inch cookie sheet. 

Dishwasher-safe and protected by a full 10-year warranty.
For your giveaway entries to be eligible, you must submit a blog comment below. Tell us: What's your favorite Amish Friendship Bread recipe, or which Amish Friendship Bread recipe would you love to try?