"I am SO excited to be apart of the Friendship Bread Kitchen community!"
Meet February 2013 Kitchen Friend Brandi Greeson Godfrey from Raleigh, North Carolina. She works as a Senior Framer at Michael's. I love her enthusiasm and it was so much fun getting to know her. Read on and enter our February giveaway below!
How did you learn about Amish Friendship Bread?
I first discovered it in grade school when my Mom received a starter. I was reminded of this moment in time and the fun of it when I read your novel Friendship Bread last year.
Who are your heroes in real life?
My Mom is my hero because she is a tough lady with a positive attitude. She is the first woman in our whole family to graduate from college, which inspired me to be the second one. I have always known her to be strong, caring, and optimistic, even when she faces the toughest of moments. She does everything with style and grace.
But this past summer I saw just how awesome and awe-inspiring she really is. She has been diagnosed with RA (rheumatoid arthritis) in the last year and she is fighting tooth and nail to keep the pain at bay and her life still active. She is an amazing artist and loves to tap dance. She is my hero because no matter what difficulties we face in life, we CAN face it and overcome it. Her motto (which is also mine): "If it's not fun, don't do it!"

What is your favorite kitchen utensil or appliance?
My stovetop tea kettle. I love tea! My favorite tea to buy is Harney & Sons Hot Cinnamon Spice tea. My favorite tea house is the Hooker Tea Company in St. Petersburg, Florida. I love walking in through the door and the smell is just amazing. Their peach or blueberry Rooibos tea on ice is like summer in a cup.
Friendship is a big part of the Kitchen. What do you look for in a friend?
I value honesty, trust, dependability and the ability to laugh and have fun together. I have incredible friends because they make me want to be my better self.
What are you looking forward to in 2013?
I started a personal blog, The Busy-ness of B. I'm recording my 2013 goals from reading 125 books to a daily photo and a daily creative moment.
Okay, who's this cute guy?
Sir Nicholas, my new 10 week old kitten. I rescued him; he was 6 weeks in the photo. I love that it looks like he is smiling for me!
I have another kitty, Lady Katrina, who is 8 years old. She was born during Hurricane Katrina. I rescued her Christmas of 2011 and Nicholas was my Christmas kitty in 2012  so his name stuck. They are my joys and remind me to have fun every day.
What's the next Amish Friendship Bread recipe you're going to make?
I want to try some of the sweeter versions like the cinnamon roll. And I bet Amish Friendship Bread would make AMAZING French Toast!
Thanks for answering our questions and being a part of the Kitchen community, Brandi!
---
KITCHEN FRIEND GIVEAWAY
This giveaway is now closed. The winner is Bessy Krauss from Mendocino, CA. Congratulations, Bessy!
Brandi's love of tea is very Avalon-esque (the small town that appears in the Friendship Bread novels) and has inspired this Kitchen Friend giveaway. Her tea kettle is absolutely charming, so I found one of the highest rated tea kettles on Amazon, the Copco Halo 1.2-Quart Brushed Stainless Steel Teakettle, and I'm giving it away this month to one lucky winner (US residents only, 18 years and up).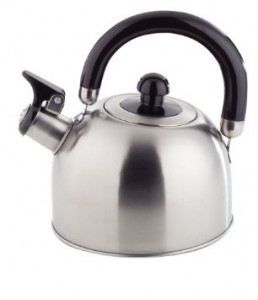 To enter, visit any of these sites and leave a comment. Each comment equals one entry. You can also "Like" three of the articles to have that count as one entry — just tell me which ones you "liked." Make sure to tell me which site you visited–leave one comment for each site if you do more than one. And (this is very important) tell me where you're from!
I'll be adding more sites as new interviews are posted, so feel free to check back and enter some more. Contest ends February 28, 2013. Good luck!