Here's what's going on in the Kitchen this week:
More Kitchen Talks on Twitter!
On Monday, 3/21/11, from 7:00 pm CST -8:00 pm CST (4:00 – 5:00 pm PST), bring a cup of coffee or tea and settle in front of your computer or smart phone for a fun hour of all things Amish Friendship Bread! Join us as we answer your questions, swap recipes, talk about our March Bake & Take, and more! This is your chance to meet other people who love the bread and get your questions answered. Moderated by Virtual Kitchen Assistant Susan.
AND, we'll have a special Kitchen Talk giveaway for a solid beechwood Oxo wooden spoon (with a curved handle and hole to hang on the wall near your mixing bowl) during the chat, so do come join us!
Not sure how to join us on Twitter? View our FAQs and troubleshooting tips here: https://www.friendshipbreadkitchen.com/kitchen-table?mingleforumaction=viewforum&f=17.0.
By (or Buy) the Book!
We have 17 days to go before the official publication of my novel, Friendship Bread. The publisher is Ballantine Books (Random House). The reviews are coming in, including a lovely one from Library Journal:
Gee, Darien. Friendship Bread. Ballantine. Apr. 2011. c.400p. ISBN 9780345525345. $25.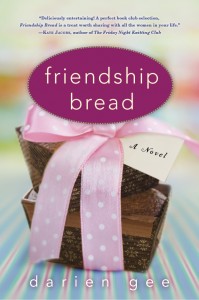 The magic of Amish friendship bread grips the small Illinois town of Avalon when Julia Evarts, grieving from the loss of her young son, finds friendship bread starter on her front porch. Julia meets Hannah, her soon-to-be best friend, when they both wander into Madeline's Tea Salon. Julia, who just happens to have a couple of bags of starter with her, gives one each to Madeline and Hannah. The three women all have issues—Madeline would like to reconnect with her stepson, Hannah's husband has left her, and Julia is estranged from her husband, sister, and parents. Baking allows them to make new connections, through which they find the strength to mend fences and heal old wounds. VERDICT This entertaining series debut by Gee (who also writes as Mia King) will appeal to fans of tearjerkers like Kristin Hannah's Winter Garden or novels dealing with the loss of a family member, such as Lolly Winston's Good Grief. It's also ideal for book clubs and readers who like stories about small-town life; it expertly weaves together numerous characters and narratives and even includes recipes and directions for making friendship bread.
You can pre-order your copy at an amazing discount from Amazon, Barnes & Noble, or your local independent bookseller. It's a nice, hefty hardcover (which promises lots of good reading between its pages) but yes, you can also get an e-book, audio, or large print edition. You can also buy it on Tuesday, April 5th, and receive a special online bonus–details to come!
Darien and the Kitchen Hit the Road
I am going on tour and bringing my recipes with me! Join me for book and bread events in Seattle (April 8 and 9), Milwaukee (April 11), Grand Rapids (April 12), Dayton (April 13), and Chicago (April 14). Check the "Events" tab on our Facebook page or my Amazon page.
March Bake & Take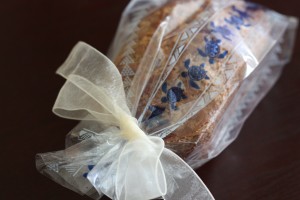 We love seeing all the energy and creativity going into this month's inaugural Bake & Take! The concept is simple–take some of your extra starter and bake for someone who helps make your life easier in the smallest of ways. You can also bake for people you love or want to offer a helping hand to–it's up to you! Share your story on the Bake & Take page and you could win a Friendship Bread Kitchen box filled with goodies, including an audiobook of Friendship Bread and a $25 gift card!
What's Baking in the Kitchen This Week
We're hitting our savory stride by testing non-sweet/savory recipes using Amish Friendship Bread starter. Darien and Friendship Bread Kitchen Assistant Jill are out to perfect the cornbread and basic sourdough recipes, Virtual Kitchen Assistant  (VKA) Susan came up with an Irish soda bread variation, and VKAs Jacqui and Wai are experimenting with cheesy versions that we'll be sure to post as soon as they're ready!
Contest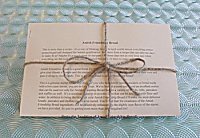 In addition to the Bake & Take giveaway which ends March 31, we have ONE early reader's copy and packet of dry Amish Friendship Bread starter from Armchair.com left! Look for a contest starting, oh … NOW.
From now until Monday, March 21, 11:59 pm PST, you'll have one last chance to win. We are completely out of galleys, so this is it. Click here for details and to enter. Good luck!
Have a great week, everyone, and remember to ENJOY and give thanks for all the good things in your life!
Your Friend in the Kitchen,
Darien