Hi everyone! Happy Monday!
(Okay, it's really Tuesday, but that's because I'm in a new time zone!)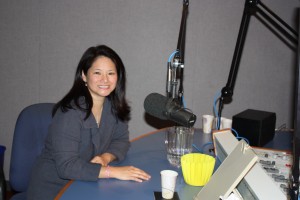 I had a great time in Seattle (thank you Barnes & Noble, Third Place Books, ChickChat and Eileen Fisher) and now I'm in Milwaukee touring for my novel, Friendship Bread. I visited lots of bookstores (Boswell Book Company, more Barnes & Nobles, and Next Chapter Bookshop) and also had a great interview in WUWM 89.7 Milwaukee Public Radio (confession: I was totally nervous and my mind kept going blank but as soon as the host, Stephanie Lecci, started the show, she put me at ease and we had a great time–she's wonderful!).
I head to Grand Rapids, Michigan, tomorrow and I'm so excited because I'll be seeing a dear friend and making some new ones, too! If you're in the area, I hope you'll join me at Schuler's on Alpine at 7:00 pm!
The day after that I head to Ohio and then Illinois, home of the novel. Check the Events calendar if you live in these areas and would like to come out and say hi. I'd love to meet you!
Also, if you Twitter, we're having another Kitchen Talk tomorrow. Kitchen Assistant Susan will be moderating so be prepared for a fun-filled hour! Bring your questions. If you'd like to enter our weekly giveaway for an Oxo wooden spoon, you'll need to RSVP. Click here for more details.
We have another contest for the ever-popular Italian-made Bormioli Rocco 1.5 liter jar which is a favorite among sourdough bakers and just the thing to store your Amish Friendship Bread starter in! Just join our Kitchen Table forum and share your story about how you got your starter (or why you started one on your own!). Details on the contest page here.
And last, but not least, some favorite Amish Friendship Bread recipes to come out of the Kitchen this week include snickerdoodle cookies, a submitted sourdough variation, and chocolate and vanilla pudding recipes!
Have a great week, everyone, and remember to ENJOY and give thanks for all the good things in your life!
Your Friend in the Kitchen,
Darien