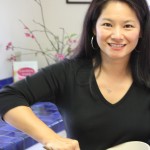 "Christmas is not as much about opening our presents as opening our hearts."
(Janice Maeditere)
Hi everyone!
It's December? Already?
I hope you and yours are enjoying the holidays as they draw near, and getting ready to ring in 2012! We have loads of fabulous recipes for holiday baking, so be sure to browse our recipe box. Here are a few to get you started:
Chocolate Candy Cane Amish Friendship Bread
Gingerbread Amish Friendship Bread
Rum Raisin Amish Friendship Bread
Southern Comfort Double Chocolate Chip Amish Friendship Bread
Stollen (pictured below)
White Chocolate Almond Craisin Amish Friendship Bread
I know everyone is busy this month so I'll keep this month's Kitchen Note short and sweet. I greatly appreciate all of the support for the book and the website this past year — it's been such a source of joy and encouragement for me. We now have almost 200 recipes in our Recipe Box, hundreds of wonderful photos submitted by our Kitchen community, and so many inspiring stories about how Friendship Bread has changed your life or given you the opportunity to connect with friends, families and neighbors. I know many of you enjoy giving the bread almost as much as baking it, and I hope you'll continue this tradition of giving as we move into the new year. Thank you again, EVERYONE!!
I have a special contest going on right now for those of you who have pictures of you with the book or the bread. Upload your favorite Friendship Bread image on Amazon and you could win a petite 8-loaf baking pan, perfect for Amish Friendship Bread giving! Click here for more information. Here's a wonderful image submitted by Shannon Morrow-Schuyler of a goody box filled with Amish Friendship Bread goodies she'll be sending to her son: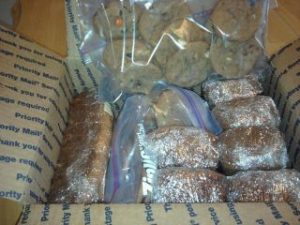 Happy holidays, everyone, and I look forward to growing our Kitchen in 2012!
xoxo,
Darien