Hi everyone!
I am loving fall! With Halloween and Thanksgiving right around the corner, Kitchen Assistant Susan and I are having a ball in the Kitchen coming up with new recipes and revisiting old ones. For those of you who plan to be baking Amish Friendship Bread this fall, here are some of our favorites:
Boo! Fun variations for Halloween…
Almond Joy Amish Friendship Bread

Caramel Apple Amish Friendship Bread

Mounds Bar Amish Friendship Bread
Giving Thanks. Bread that's perfect for sharing this Thanksgiving…
Apple Cranberry Amish Friendship Bread
Apple Flax Amish Friendship Bread

Apple Orange Whole Wheat Amish Friendship Bread

Apple Raisin Amish Friendship Bread
Apple Spice Amish Friendship Bread

Pumpkin Amish Friendship Bread Scones

Pumpkin Spice Amish Friendship Bread
We love your photos! Submit them here or post on our Facebook wall (if you post on our wall, you're giving us permission to add it to our gallery here in the Kitchen). Kitchen Friend Desiree DiFabio submitted this photo of her adorable children as they made Pumpkin Spice Amish Friendship Bread: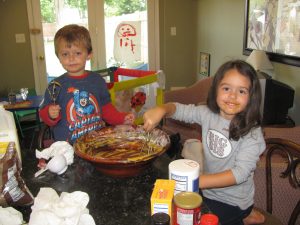 Website revamp. We're getting ready to revamp the Friendship Bread Kitchen website (and Facebook page) and looking for talented web designers. We also welcome thoughts and suggestions from Kitchen Friends on how we can make the site better. At a minimum you can expect easier recipe printables, a lighter and brighter color palette, and tutorials. Contact us through the contact form — we'd love to hear from you.
---
Kitchen Friend Profile: Michelle Lee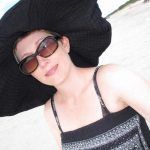 We're delighted to have Kitchen Friend Michelle Lee (The Adventures of Supermom) from Asheville, NC join us this month in our new Kitchen Friend Feature. She's masterful at creating new recipes, especially savory variations of our favorite bread. Check out her Coriander, Sweet Basil and Sea Salt Amish Friendship Bread — it's a winner and she uses fresh basil from her garden.
1. Tell us about your day job. I'm a Publisher/Writer for The Adventures of Supermom and Supermom Reviews and a Media Account Executive with Liberty Street Baggage.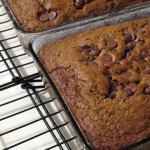 2. What is your favorite Amish Friendship Bread variation or recipe? One that I made, Pistachio Fresh Basil and Chocolate Friendship Bread.
3. What are you reading? I'm currently reading Eat, Pray, Love [by Elizabeth Gilbert] and enjoying it very much. I have a stack of books on my nightstand and my desk for future reading.
4. What's your idea of perfect happiness? The life I'm living right now. I have an amazing husband, terrific kids and loving family and friends. We have a roof over our head and food on the table and we enjoy being together as a family.
5. Which talent would you most like to have? I've always wanted to play the guitar.
6. Who are your heroes in real life? My Mamaw, she just turned 81 and she's everything to me.
7. What's your motto? "Make it happy, find it a home." I'm a clean OCD freak and I hate clutter and things laying around. This is what I tell my children and husband when I have to pick up something of theirs UP!
8. Anything else you'd like to share with us? I LOVE FRIENDSHIP BREAD! PASS THAT ZIPLOC BAG PLEASE!
Michelle also has a wonderful video about starting her starter — click here to see it. If you'd like to be featured in an upcoming Kitchen Notes and News, just upload your photo and fill out our questionnaire here.
---
As for me, I'm working on the sequel to my novel, Friendship Bread, which just came out in Germany and Taiwan (it was published in the US and Australia in April). Please give it a "Like" on Amazon!
I'm having fun writing, revising, but most of all … crafting! It's been ages since I've been able to journal creatively, and it's been wonderful playing with all the new paper products and embellishments out there (and even more fun making your own!). For those of you who are crafty and love to scrapbook or journal, you're going to love this visit back to the small town of Avalon, Illinois. When I'm all written out for the day, I've been creating reader inspiration packs (see pic) that I'll send out with the book, Memory Keeping, when it published in 2012. Want a pack now? Click here to join the fun!
We're also getting ready to move and I'm looking forward to baking in my new, sunny kitchen and writing in my new studio! I am so excited since this will be the first home we've ever owned and we are already in love with it. I'll be posting photos soon.
Contests. Our Library Love contest is going on through the end of the year, so nominate your local library to receive a copy of the novel and audiobook if they don't have it. We choose two winners every month and all past nominees are included in future drawings. I also have a special autumn contest for a 13″ stainless steel Winco cake stand that begins on Monday, October 24! This contest is for newsletter subscribers only, so join our mailing list if you'd like to enter. Subscribers will receive their special password via their email address by the weekend (be sure to "whitelist" us).
Thank you so much for being a part of the Friendship Bread Kitchen community — you keep me inspired when I'm writing (or baking) in the middle of the night!
hugs,
Darien