Raise your hand if you love your library!
We're giving away your choice of a copy of the novel or the 12-CD audio book of Darien's Friendship Bread (read by Nancy Linari) to libraries to add to their library collection. If your public library doesn't have a copy of Friendship Bread and you would like to help them get one, simply follow the directions below:
Leave a comment below telling us your full name, the library name, mailing address, phone and head fiction librarian of your local library, and
What you love most about your library, libraries in general and/or any favorite librarians!
Each winning library will receive a hardcover of the novel OR the 12-disc audio CD of the novel to add to their library collection (we'll check first to see which one they have or need). They'll also receive a letter telling them that this new addition to their library collection is thanks to … YOU!
We'll choose a winner on the 15th of every month, so please make sure your entry is complete — incomplete nominations will be disqualified. Good luck and thank you for supporting your local library!
---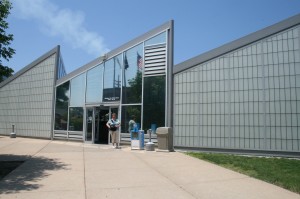 Sharing the Love … some favorites from our Kitchen team!
The current library in Kitchen Founder Darie's life: the Thelma Parker Memorial Library in Kamuela, HI. Favorite library of her childhood: the Meyer Neighborhood Library in Houston, TX. "Libraries were always my escape. We moved a lot when I was growing up, but I knew that if I could find a library, I'd be at home. There's something about wandering the stacks, discovering a book, pulling it off the shelf and checking it out that always made me feel connected."
The current library in Virtual Kitchen Assistant Susan's life: the DuQuoin Public Library in DuQuoin, IL. Favorite library of her childhood: the Michigan City Public Library in Michigan City, IN. "I went back to my childhood library after being away 23 years. I was so impressed with how wonderful the place looked. As a kid I knew that I could go there and escape from my crazy world and find new places to explore."
The current library in Virtual Kitchen Assistant Jill's life: the Kailua-Kona Public Library in Kailua-Kona, HI. Favorite home-away-from-home library: the Hillsboro Public Library in Hillsboro, OR. "I love the windows looking out to the park–it's the perfect place to discover new books and authors!"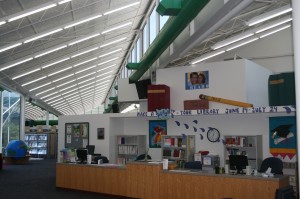 ---
Winning libraries to date (March 2012):
Dike Memorial Library in Dike, IA (nominated by Karen Heerkes)
Cambridge Community Library in Cambridge, WI (nominated by Stacey Bieberitz)
Alvin Library in Alvin, Alvin, TX (nominated by Heather Nance)
Blue Mountain Public Library in Blue Mountain, MS (nominated by Kevin Lence)
Miller Memorial Central Library (Hamden Public Library) in Hamden, CT (nominated by Jennifer Marchitto)
Linton Public Library in Linton, IN (nominated by Wilma Hardesty-Jerrell)
LaValle Public Library in LaValle, WI (nominated by Linda)
School Library in Plato, MO (nominated by Dianna Baker)
Ogdensburg Public Library in Ogdensburg, NY (nominated by Viviane)
James City County Library in Williamsburg VA (nominated by Sheri Gill)
Richfield Township Library in Saint Helen, MI (nominated by Richard Evanoff)
Eldon Public Library in Eldon, MO (nominated by Shelly Snelson
Brownsville Public Library in Brownsville, OR (nominated by Joey Running)
Slatington Public Library in Slatington, PA (nominated by Carla McIntyre)
Barbara and Mike Bass Library at Lorain County Community College in Elyria, OH (nominated by Pamela Reese)
Mohave County Library in Golden Valley, AZ (nominated by Laura Strathman Hulka)
Kate Love Simpson-Morgan County Library in Mcconnelsville, OH (nominated by Debbie Sharp)
West Allis Library in West Allis, WI (nominated by Jeanmarie Hiracheta)
Natchitoches Parish Library in Natchitoches, LA (nominated by Dawna Penrod)
Villa Park Library in Villa Park, CA (nominated by Lenore Fujibayashi)
Davis County Library North Branch in Clearfield, UT (nominated by Adelina Priddis)
Corbin Memorial Library in Crisfield, MD (nominated by Donna Tyler)

Randleman Public Library in Randleman, NC (nominated by Sue Aaron)