MARCH 2013 KITCHEN NOTES & NEWS
Dear Kitchen Friends,
Happy March! We've got a lot of exciting things going on this month, most notably the launch of our second Friendship Bread Kitchen Bake and Take.
The Second Friendship Bread Kitchen Bake and Take Begins Today
In 2011, we hosted our first "Bake and Take" inspired by the efforts of the small community of Avalon, Illinois from my novel, Friendship Bread. 
Bake and Takes are a wonderful way to help those in need or to show appreciation for the people in your life. We had a tremendous turnout (you can read more about the 100+ entries in our 2011 Bake and Take here) and we hope this month you'll be inspired to bake for someone who isn't expecting it. A neighbor, coworker, teacher, mailman, perhaps? A doctor, caregiver, piano teacher, garbage man? Friends and family members count, too! Two winners will be chosen to be featured in an upcoming Friendship Bread Kitchen e-publication, Friends from the Kitchen (available this summer) and will receive a $15 Amazon gift card. All you have to do is leave a comment telling us what and who you plan to bake for, and why. Complete details for the 2013 Bake and Take here.
If you're only going to bake Amish Friendship Bread only once this year, this is the time. Join us!
This Month's FBK Photo Challenge: Chocolate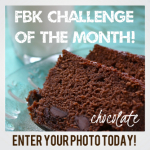 Our first monthly FBK Photo Challenge was a success with 15 fabulous entries! The secret ingredient was lemon, and I loved seeing all the creative variations people submitted as well. Congrats to the winner: Michelle Sears, for her photo of the Triple Lemon Amish Friendship Bread variation! Her bread (and photo) turned out beautifully, and we appreciated her special notes about how she gifts her friendship bread. Everyone who participated will receive our Lemon AFB recipe e-booklet, available in the summer of 2013, as a special thank you for being a part of our latest venture.
If you're baking Amish Friendship Bread this month, try a chocolate AFB recipe (or come up with one of your own) and enter your photo(s). The winner will receive a $10 Amazon gift card. Bonus: if you're baking a chocolate variation for the Bake and Take, you can submit it here as well. Get more mileage from your friendship bread this month! For more information, click here.
Exclusive New Recipe #1: Lemon Pine Nut Amish Friendship Bread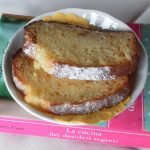 This bright, lemony Amish Friendship Bread variation hails from Italy. Submitted by Lucia Ciattaglia of Ancona Marche, Italy, this recipe also uses pine nuts which gives it a delicate crunch. Looking for the perfect tea time or brunch addition? You'll want to give this variation a try. Newsletter subscribers, please use the password provided in your email newsletter announcement to access the recipe. The email was sent to subscribers on March 1, 2013 (reminder: please "whitelist" [email protected] to ensure receipt of the newsletter). The recipe will go live to the rest of the site in April. To view and print the recipe now, click here.
Exclusive New Recipe #2: White Chocolate Blueberry Corn Amish Friendship Bread Muffins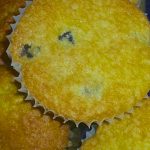 The name is a mouthful, but so is this creative AFB variation. Sandi Leonard of Peculiar, MO, came up with this variation as part of her search for breakfast muffins for her teenage boys. From there inspiration took over: "This recipe was inspired by the cornmeal I was using for another recipe and I realized how much I like corn muffins.  The white chocolate was the flavor of pudding I had that I thought would match best with the corn and the blueberries sounded good as well." Newsletter subscribers, use the same password provided in the email newsletter to access this recipe as well. To view and print the recipe now, click here.
This month I'm thrilled to introduce you to Kitchen Friend Alyson Krumwiede from Severn, Maryland. Learn a bit about her and you could win one of her favorite things in this month's giveaway (crafty Kitchen Friends, you'll love this one!). (And, lovely subscribers, please leave your warm welcome for Alyson on the Kitchen Friend post, not here. Thank you!)
Your responses to our question, "Tell us how AFB first came into your life," from the Friendship Bread Kitchen Facebook wall.
@RenéAltherr: "My aunt taught me when I was 13 how to make it."
@JanBakerShrum: "Came from my sister in law. 15 years ago."
@Stacy Kersteter: "After reading your Friendship Bread book in my book club."
@LindaSpaulding: "My first friendship bread and starter came through a dear friend named Travis Hooper. The bread didn't last long because I devoured it, the starter didn't last long because I messed it up, but the friendship is going strong. Thanks, Travis, love and miss you."
@ChastityScottSullins: "My grandma."
@JeanHuntsinger: "A preacher's wife gave it to me!!"
@JuneSeip: "Don't remember who or where, I just remember thinking, OMG, this will be with us forever!"
@VanessaCrosby. "The first time was in TN mailed to me from my mom in MN. The second time was from my neighbor in North Pole Alaska."
@JudiCabanaw: "30 years ago a friend at work gave me starter…It was delicious bread but I gave it all away. So I re-found it later on…it has gotten to the point now if my family or friends sees me with a container in my hands they shut the shades and pretend not to be home."
@LisaDHanna: "Back in the 90's somebody was passing out starter. My Mom and I tried it. Fabulous!! I thought for sure we would all get sick!!!"
@AnneBussardParkinson: "Back in the late 80s and a girl at work brought them in for us she had them in pint mason jars."
I invite you to get involved with the Friendship Bread Kitchen this month. Take out your starter (or make one from scratch), and bake Amish Friendship Bread with the intention of sharing it with others. Why not try a new recipe, invent one of your own, or enter one of the three monthly giveaways going on right now? Tell a friend about the Kitchen, submit your own Kitchen Friend profile, drop into the forum and help someone out. Remember to check our Recipe Box, too, for St. Patrick's Day variations. Have a great month, everyone, and thanks for being in the Kitchen with me!
Darien