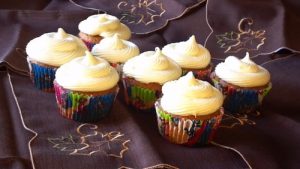 Congrats to this contest winner, Dori Cordle from DeFuniak Springs, Florida. We love these Pumpkin Spice cupcakes.
---
Wow, what a great year it's been! Our heartfelt thanks to everyone who joined us in the Kitchen, and a special hug and thank you to those of you who let me know how much you loved my novel, Friendship Bread. It's making its way around the world and I'm so excited to have so many wonderful folks in the Kitchen with us!
Our final contest of the year: the "Show Us Your Friendship Bread!" Photo Contest. We're giving away this fabulous Baker's Secret Nonstick Petite Loaf Pan — it makes 8 mini loaves at a time, so it's perfect for Amish Friendship Bread gift giving.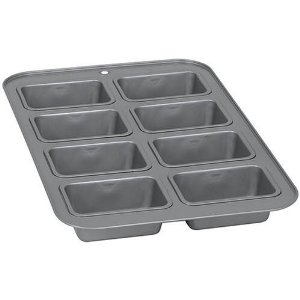 Here are the specs for you Kitchen geeks:
Nonstick mini loaf pan with 8 slots — great for making small breads or chilling ice cream treats
2-ply steel fortified with ETP for enhanced durability and rust protection
Delivers even cooking results, optimal browning, and easy release of baked goods
Use non-metal utensils only; broiler-safe rating
Dishwasher safe; 5-year limited warranty
If you've enjoyed the novel, Friendship Bread, or enjoy baking Amish Friendship Bread for friends and neighbors, we'd love to see your photos! You can submit a photo of the book, you with the book, any of your Amish Friendship Bread variations, even your starter! (For ideas, see the images at the bottom of this post.)
To enter, here's what you have to do:
Upload your photo on the Friendship Bread book page on Amazon.com. Here is the direct link to upload your image: http://www.amazon.com/gp/customer-media/upload/0345525345/ref=cm_ciu_pdp_add?ie=UTF8&rnd=1323325568. You will need an Amazon account to upload an image, and it's free to join.
Once your photo is uploaded, leave a comment below telling us (1) your name, (2) where you're from, (3) the date and name under which the photo is uploaded so we can find it. That's it!
A few quick rules:
This contest begins Friday, December 9, 2011 and ends Thursday, December 15, 2011 at 11:59 PST. A winner will be announced on this post no later than the following Monday.
Your image must be uploaded on Amazon during this time period to qualify.
Duplicates of previously posted images on Amazon will not be considered, but we hope you'll take a new photo and submit it!
If you've posted your images on our Facebook wall in the past but not on Amazon, you can re-post the image on Amazon and be qualified to enter.
Good luck and have fun! Happy holidays, everyone, and I'll see you in 2012!
xoxo,
Darien
PS. Need some ideas? Get inspired by your Kitchen Friends! Here are some great images that have been submitted in the past: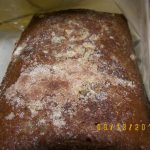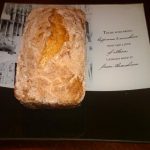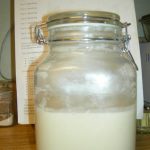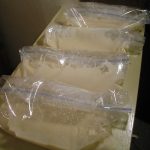 This contest is closed. All comments have been verified and a winner has been chosen. Thanks to all who entered and took the time to post their delicious photos. Congrats to Dori Cordle from DeFuniak Springs, Florida for winning the Contest! Dori, please send us your mailing address via the Contact Form on our website. Thank you!