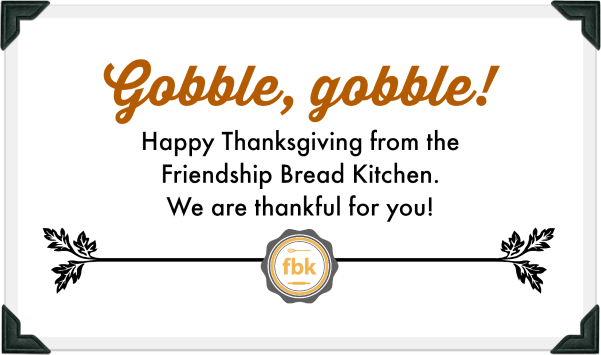 It's that time of year again, and we want you to know that we're thankful for you, those we know about and those who quietly lurk, baking on the stealth. We're thankful for baggies of Amish Friendship Bread starter and the never-ending trails of sugar and cinnamon. We're thankful for people who remember to share a little bit of themselves with others whenever they can. Thank you for being in the Kitchen with us!
A Thanksgiving Discount!
Take 20% off our bestselling e-cookbook, Quick and Easy Amish Friendship Bread Recipes: An Amish Friendship Bread Primer with Over 50 Recipes to Bake and Share with Others. With over 50 kitchen-tested Amish Friendship Bread recipes curated and created by the Friendship Bread Kitchen, you'll find the right recipe for any occasion for less than $0.16 a recipe! Click here to read more. This is a PDF file is 94 pages and downloads immediately after purchase. Use code THANKS20 at checkout, offer good through November 29, 2015.
Quick Links