The Kitchen is bubbling over with excitement because of all the recipes that are filling up the Recipe Box! Do you know that we now have over 100 Amish Friendship Bread recipes? Yup, that's right!
And all of these recipes have one thing in common: they all use 1 cup of Amish Friendship Bread starter. It's the Bisquick of Amish Friendship Bread baking, and the heart of Darien's novel, Friendship Bread, which was published last Tuesday by Ballantine Books (Random House).
This week's special giveaway hearkens back to our early Facebook giveaway earlier this year. Remember one of our first contests, Who Gave You Your Starter? So many wonderful stories were shared, and it became one of our most popular posts.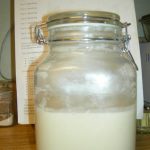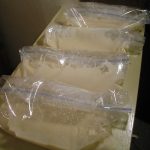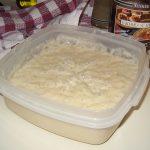 Now that our numbers have grown, we're hoping the stories have, too! (Oh, and a special thanks to Tania Opamin, Veronica Gantley, and the Campbell kids for sharing their starter pictures!)
From now until 11:59 pm PST Sunday, April 17, join us at the Kitchen Table and share your story for how you got your starter! If you made your own, that's okay, too — just let us know what inspired you to start it. And if you have a picture of your starter, you're welcome to share that, too!
If you're new to our site, the Kitchen Table is our forum for discussion all things Amish Friendship Bread. You can always check our FAQs for commonly answered questions, but sometimes you just need to ask other home bakers for a little help and support, and that's what the Kitchen Table is all about.
In keeping with tradition, the winner will receive a Bormioli Fido Clear Glass Jar with lid! The Italian-made Bormioli Rocco 1.5 liter jar is a favorite among sourdough bakers. It's perfect for storing your Amish Friendship Bread starter — just give your starter a quick stir once a day!
Clear glass hermetic jar allows you to see your starter clearly.
1.5 litre/1.59 quart capacity
4 1/4″ square x 8 3/4″ H
Metal clamp and gasket seal helps keep starter fresh and contaminant-free
Made in Italy
So go to the Kitchen Table, join our forum, and tell us how you got your starter (or why you started your own!) and where you're from! Comments posted here will not be considered. This contest ends 11:59 pm PST Sunday, April 17, 2011. We'll post the winner at the Kitchen Table. Good luck!
This contest is now closed. The winner is Michele Blaylock from Pierre, South Dakota. Congratulations, Michele!