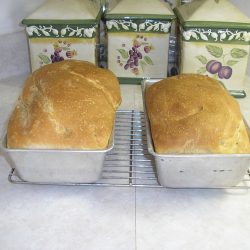 Take your cup of Amish Friendship Bread starter and make two loaves of this traditional rustic sourdough bread that has a distinct Amish Friendship Bread tang.
Put all ingredients in a very large bowl (20-cup size) and mix until batter is stiff.

Oil hands with corn oil and knead dough into a mound.

Add extra oil to the bowl, cover and let rise over night or until the dough has risen to fill up the bowl.

Remove dough from bowl and knead.

Lightly oil 2 or 3 loaf pans.

Cut dough into even pieces and place in the loaf pans.

Let dough rise again all day or night.

When ready to bake, preheat and bake at 325° F (165° C) until golden brown.

ENJOY!
This recipe can also be used to make rolls. Add more warm water to the recipe if the starter is too thick.
For Step 6, roll into balls and place in a greased rectangular casserole or cake pan. Let dough rise for an hour or until doubled, then bake in a preheated 375° F (190° C) oven for 25 minutes or until golden on top.