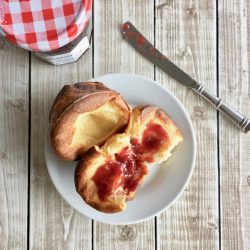 Don't let your starter go to waste! These Amish Friendship Bread Popovers are a great accompaniment to a hearty meal or alongside a salad.
Preheat oven to 450° F (232° C). Place muffin or popover tin inside.

In a small pan, warm milk.

In a medium mixing bowl, combine starter, milk, eggs and salt. Add flour until just incorporated--a few lumps are okay. Be careful not to overmix.

Carefully remove muffin or popover tin and brush with melted butter or use a nonstick spray. Quickly pour batter into every other muffin cup (or, if using a popover tin, fill every cup). Fill to ½ full.

Return to oven and bake for 10-12 minutes, then reduce heat to 350° F (177° C) . Bake for an additional 10 minutes or until popovers are golden brown and crusty.

Remove from oven and make a small slit on the side of each popover. They'll deflate a little bit.

Serve immediately and ENJOY!
Do not open the oven door while popovers are baking or they might collapse.
Some twists:
For cinnamon-sugar popovers: Melt ¼ cup of butter and prepare ¼ cinnamon sugar. Immediately after removing popovers from oven, brush each popover with melted butter then roll in cinnamon-sugar.
For cheddar-herb popovers: Mix 2 teaspoons dried herbs or fresh chives and ⅓ teaspoon garlic powder to the flour. Prepare batter, folding in ½ cup grated cheddar towards the end (be carefully not to overmix). Follow instructions for baking.