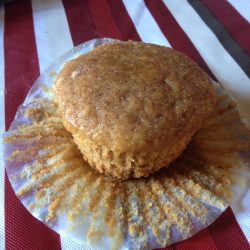 These sweet Amish Friendship Bread Cinnamon Apple Muffins are a perfect mid-morning snack for kids and adults!
Preheat oven to 325° F (165° C).

In a large mixing bowl, add and mix all the ingredients until just blended.

Line muffin tin with cupcake liners.

Pour batter evenly into muffin tins.

Bake for 20-30 minutes until toothpick comes out clean.

Mix together 1/2 cup sugar and 1/2 teaspoon cinnamon.

While muffins are still hot, but cool enough to handle, press muffin tops into cinnamon and sugar mixture.

Cool muffins on a wire rack.

ENJOY!
These muffins are great frozen and then thawed. Wrap each one individually in plastic wrap and freeze.