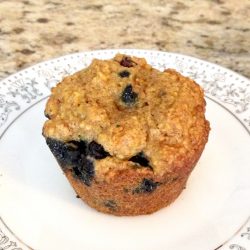 These Blueberry Oat Bran Amish Friendship Bread muffins are great for breakfast and are bursting with fiber and flavor.
Preheat oven to 325° F (165° C).

In a large bowl, mix the oat bran, flour, brown sugar, baking soda, baking powder, cinnamon, and salt.

In a medium-sized bowl, blend starter, applesauce, egg, oil, and vanilla extract.

Fold wet ingredients into the flour mixture. Fold in the blueberries.

Grease muffin pans. Spoon batter into prepared muffin cups.

Sprinkle tops of batter with granola, tapping with the back of a spoon to make sure the granola sticks to the batter.

Bake for 15 minutes or until the bread loosens evenly from the sides and a toothpick inserted in the center of the muffin comes out clean.

ENJOY!