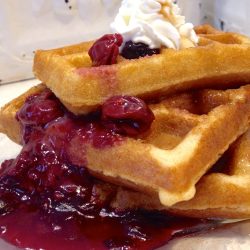 The perfect weekend accompaniment: Amish Friendship Bread waffles topped with sliced bananas and fresh maple syrup.
Preheat waffle iron.

Combine flour, salt, baking powder and baking soda in a large mixing bowl.

In a smaller bowl, combine oil, Amish Friendship Bread starter, milk, and egg.

Add ingredients of smaller bowl to the ingredients of larger bowl and mix on medium speed.

Spray waffle iron with non-stick cooking spray and pour batter onto hot waffle iron. Cook until golden brown.
This recipe is courtesy Suzy at Kitchen Bouquet.
Make the waffle batter up to one day in advance and whisk well before using. Top hot waffles with 1 cup fresh or thawed blueberries, strawberries, or bananas for an extra treat.
From Paula Altenbach: "To avoid an overly sweet waffle, I used Amish Friendship batter that had been fed a day earlier and allowed to consume some of the sugars. These came out of the Belgium waffle iron steamy and tender without being overly sweet. We dropped them in a toaster to keep the crowd fed at their own pace."