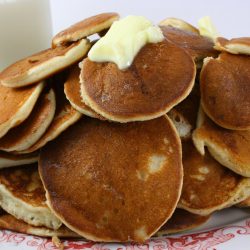 What better way to start off the weekend than with Amish Friendship Bread Pancakes, fresh off the griddle? This recipe is light, fluffy, and a fast favorite.
In a small mixing bowl, combine starter, oil, milk and egg.

In a large mixing bowl, combine flour, salt, baking powder and baking soda.

Create a well in the center of the dry ingredients and pour the starter mixture in the center. Using a hand mixer, mix on medium until incorporated.

Spoon batter onto a skillet or a greased griddle over medium heat. Cook until bubbles appear on the surface, then flip and cook until browned on the other side.

ENJOY!
Add 1 cup fresh or thawed blueberries, strawberries, or bananas. Add before flipping pancakes over.
From K Brown: "Add cinnamon chips before flipping the pancakes. These turn out light and fluffy."
From Shari:"For a whole-grain variety, use whole wheat flour, rolled oats, and wheat germ with added vanilla and cinnamon."