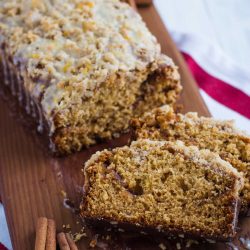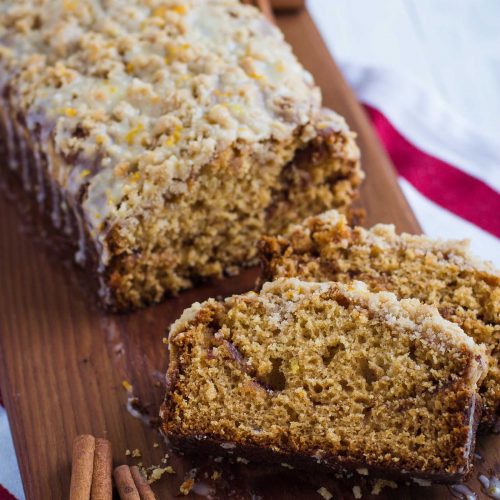 Dress up the classic Amish Friendship Bread loaf with a crunchy sugar center, a cinnamon crumble and a zesty orange glaze.
For the orange glaze
1-2

tablespoons

orange juice

1

teaspoon

orange zest

1

cup

confectioners' sugar
Preheat oven to 325° F (165° C). Grease two large loaf pans.

In a large mixing bowl, add in all of the wet ingredients and mix thoroughly.

Sift the dry ingredients into the wet ingredients and stir until fully incorporated.

Dividing the batter up, pour about ¼ into one loaf pan and a ¼ into the other. Sprinkle each one with ¼ of the cinnamon sugar mixture. Pour the remaining batter evenly between the two loaf pans and sprinkle the tops with the remaining cinnamon sugar.

Combine all of the ingredients for the crumble spread in a medium bowl.

Cut the butter into the other ingredients until it starts to crumble together and form clumps. Sprinkle evenly across both loafs.

Bake for one hour or until the bread loosens evenly from the sides and a toothpick inserted in the center of the bread comes out clean.

To make the glaze, combine the sugar and orange zest in a small bowl.

tablespoon at a time, whisk in the orange juice until a thick glaze forms. Add a bit more juice if needed.