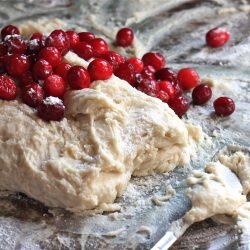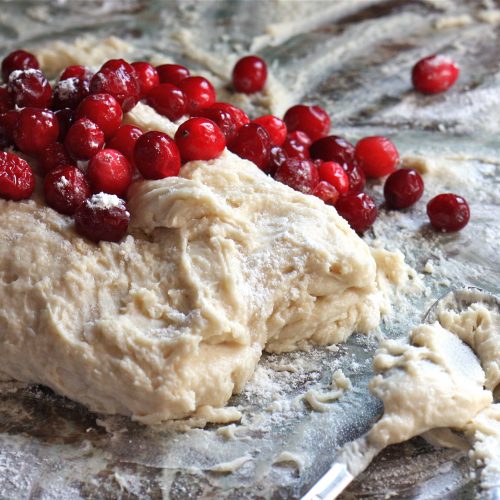 Light and fluffy, this Amish Friendship Bread drop scone recipe offers a burst of tart cranberry goodness with just the right amount of sweetness.
Preheat oven to 400° F (200° C).

In a mixing bowl combine flour, sugar, baking powder, baking soda and salt.

With a pastry blender, cut in butter until mixture resembles coarse crumbs. If you don't have a pastry blender, grate the frozen butter with a box grater and incorporate with your fingers. Make a well in center of dry mixture; set aside.

In another bowl combine starter and egg. Add the wet mixture all at once to dry mixture. Using a fork, stir just until moistened. Do not overmix.

Turn out onto lightly floured surface. If the dough is too sticky add flour until it becomes easier to handle. Add cranberries and fold in carefully, using two spoons.

Drop heaping spoonfuls onto an ungreased baking sheet.

Bake for 15 to 20 minutes until golden.

Drizzle with lemon glaze while warm.

ENJOY!
You can also use dried cranberries in place of fresh or frozen. If you don't like working the dough with your bare hands, use two spoons to help incorporate additional flour and whole cranberries. If your kitchen is hot or humid, chill the flour mixture and mixing bowls before use. Be careful not to overwork the dough.