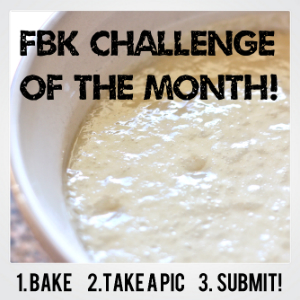 It's on … the FBK Challenge of the Month is back!
Are you thinking about baking Amish Friendship Bread this month? Enter a picture of your bread and you could win a $15 Amazon gift card. It's as easy as 1-2-3!
Bake an Amish Friendship Bread variation according to the challenge of the month.

Take a picture.
Submit it below. That's it!
You can bake an existing Amish Friendship Bread recipe from our Recipe Box or come up with one on your own. Upload your photos and we'll choose a winner on the first week of August.
July 2016: Snap a picture of YOU in the Kitchen with your Amish Friendship Bread starter or a recipe fresh out of the oven.
>> View Our Submission Guidelines
Other notes:
If you make up your own AFB recipe, it must contain at least 1 cup of Amish Friendship Bread starter. We love innovative AFB recipes, so please consider submitting it to the Recipe Box, too.
You'll retain full credit for any photos or submitted recipes if it's not currently in our Recipe Box and not too similar to an existing recipe.
All photos will be added to the corresponding recipe.
The more photos you submit, the merrier! Vary the shot and avoid using bright flash. Natural light is always best. And make sure the bread is in focus, too. Blurry shots will be disqualified.
The photos must be taken by you (or someone you know) of your bread. Stock images or images taken from the web are not acceptable.
By submitting your photo or recipe to us, you grant us the right to use your name, comments, and photo(s) in the Kitchen's materials for internal and external audiences. These materials include but are not limited to advertisements, brochures, viewbooks, cookbooks, compilations, news releases, magazines, newspapers, newsletters, videos and Web sites.
If you want to submit a photo or recipe but not have it appear in a Friendship Bread Kitchen e-booklet or cookbook, just tell us in the "Other Notes" section.
To be considered for the $10 Amazon gift card, photos must be submitted in the month the challenge is going on, but not necessarily taken in that month. You are welcome to re-submit a past image to qualify in the appropriate month (i.e. if you baked a lemon recipe in January and sent the picture back then, you can re-submit it in February for the FBK Challenge).
The flavor or ingredient challenge may be subject to change so please check the list on the first day of the month before you begin baking.
You CAN win more than one time. We'll choose a photo that best represents the monthly challenge.
At the end of the year, all qualified entries will be automatically entered into our FBK Bread of the Year Contest. Cool prize yet to be determined, but you know from past contests that it'll be something really good!
All images will be posted on our Facebook Wall
Ready? Submit your Entry Below
[contact-form-7 id="7883″ title="Submit Images"]