A potato flake sourdough starter is a type of fermented sourdough starter that uses potato flakes and sugar to feed the yeast. The starter recipe is gluten- and dairy-free, which means it behaves differently from traditional sourdough or Amish Friendship Bread starters.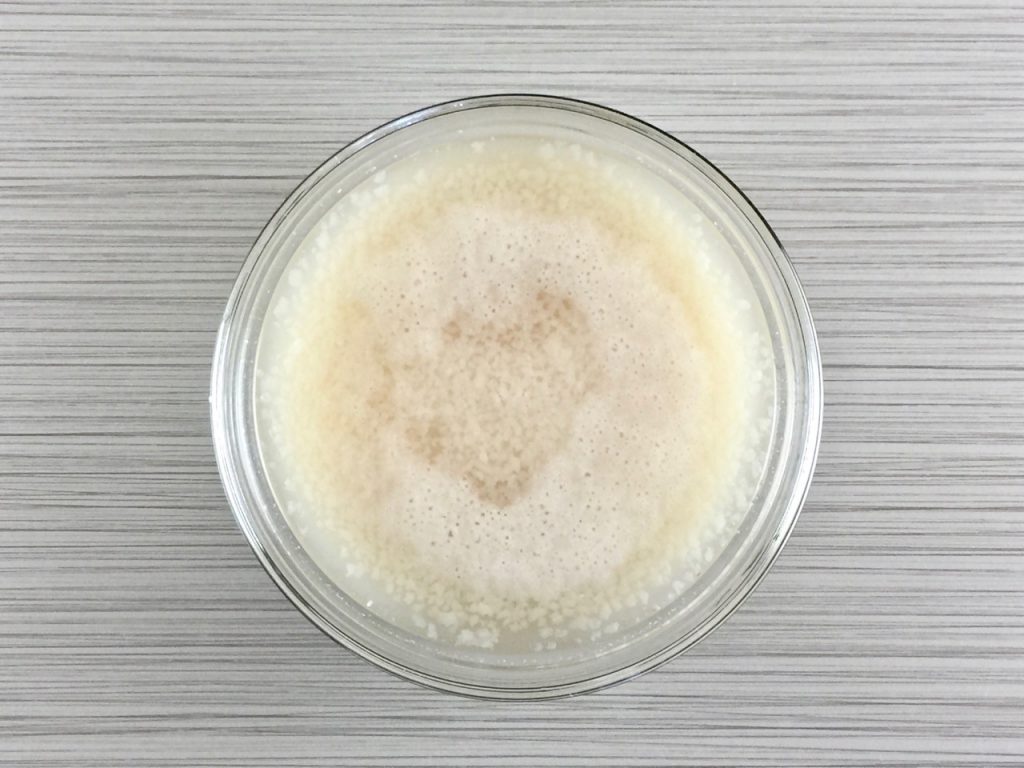 The potato flake starter is used to make loaves of soft, white bread and rolls. There's also a wonderful cake recipe you can make from the starter. As with all sourdough starters, potato flake starters can be kept indefinitely if properly maintained (read the recipe post for maintenance tips).
Most of the recipes at the Friendship Bread Kitchen use 1 cup of Amish Friendship Bread starter, a flour-based sweet sourdough starter. Because potato flake starters are thinner and more watery than an AFB starter, you can't use it as a 1-for-1 swap in recipes calling for 1 cup of AFB starter.
But you know me … I say, experiment! Take an AFB recipe and adjust the amount of flour and liquid to accommodate your runnier starter. It'll take some tweaking, but it can be done, and then you'll have more options available to you. Plus, the longer you have your starter, the better you'll understand how it behaves in a recipe. I would reduce any other liquid in your recipe by 1/4 cup, and increase the flour by 1/4 cup, and then adjust from there.
Here are a few distinguishing traits of potato flake sourdough starters:
ideal for making loaves of sandwich bread or rolls
sweeter than a traditional sourdough starter
more thin (runnier) than thick (when compared with traditional sourdough or AFB starters)
will bubble from activity (but not as much as other starters)
is stored primarily in the refrigerator rather than at room temperature on the counter
not easy to "put on hold" if you want to take a short break
not recommended for freezing (storage)
If you're not sure about which starter to use, I recommend trying an Amish Friendship Bread starter first. They're easy to make, more forgiving, and you can make so many different things from your 1 cup of the starter.
The Process in a Nutshell
If you're going to start the whole process from scratch, here's how you do it:
Day 1: Make your potato flake starter. Let it ferment at room temperature for two days.
Day 2: Stir.
Day 3: Stir.
Day 4: Feed your starter. Leave on the counter for 8-12 hours or overnight so the yeasts have a chance to eat through some of the food.
Day 5: Move your starter into the refrigerator for 2-3 days.
Day 6: Do nothing (stirring optional)
Day 7: Do nothing (stirring optional)
Day 8: Remove one cup of starter to make the potato flake bread or cake. With the remaining starter, you can either discard, share with friends, or start the process over again by adding 3 tablespoons instant potato flakes, ½ cup sugar, 1 cup warm water to the existing starter (the existing starter should not be more than 2 cups — discard or bake with the excess before feeding). Leave on the counter for 8-12 hours or overnight. You are now back to Day 4.
Like all sourdough starters, there's some science and art in maintaining your starter and baking with it. Every kitchen is different, and warmer kitchens yield different results from cooler kitchens. It's also important to you feed your starter at the correct ratios, or the yeasts won't be able to thrive.
Potato Flake Sourdough Recipes
Here are the potato flake recipes at the Friendship Bread Kitchen: