Hey, welcome to the Friendship Bread Kitchen! My name is Darien Gee, your friend and guide to all things Amish Friendship Bread. I was born in St. Louis and have traveled the world–I'm now based in Hawaii. I'm the author of several books including Friendship Bread: A Novel (Ballantine Books) and the novels that followed, as well as three cookbooks of Amish Friendship Bread recipes.
There are so many ways you can use 1 cup of Amish Friendship Bread starter, and I've spent years finding, curating, and creating recipes to help you do this. Amish Friendship Bread isn't just a recipe — it's a way of sharing what we have with others, of finding ways to build connection and community. Is it any wonder that the original cinnamon-sugar loaf recipe yields two loaves, one for you and one for a friend? And that the starter grows exponentially, almost begging to be passed on? Bake and share, my friends. That's what it's all about.
How it started
The Friendship Bread Kitchen was born on January 13, 2009 while I was writing my novel and experimenting with different Amish Friendship Bread variations. My mission was simple: meet like-minded people who loved Amish Friendship Bread and maybe even swap a few recipes.
For almost a year my house smelled of sugar and cinnamon. I was writing, I was baking, I was connecting with people about the book and the bread. I looked for ways to make it gluten free (tricky) or low cholesterol (easy), but above all accessible to everyone. I wanted people to have fun with it, to be creative with it, and to share it with others.
That's still my intention today.
About the Friendship Bread Kitchen
The Friendship Bread Kitchen is a place to kick up your feet and share recipes, tips, stories, and community. I've tried a lot of different things with the Kitchen over the years. Some things worked and some things didn't. I've learned a lot and I'm still learning!
At its heart, the Friendship Bread Kitchen is YOUR Amish Friendship Bread resource center, so that whenever you are inspired to make and share the bread, you'll know where to go if you need any help.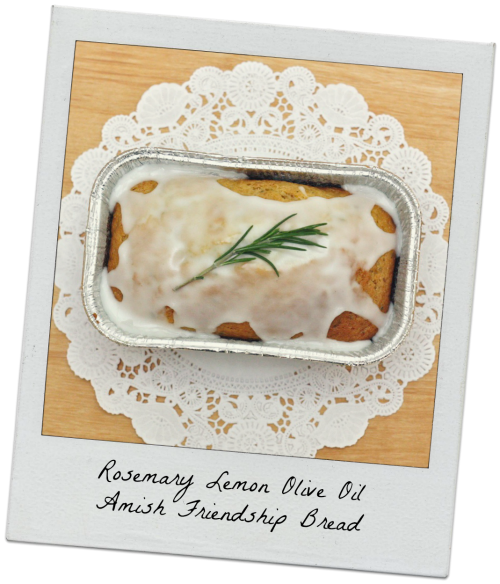 What you'll find here
Amish Friendship Bread recipes, tutorials, the occasional blog post, the occasional newsletter, the occasional giveaway, and free printables to help you gift your Amish Friendship Bread.
There's a lot of talk about whether or not Amish Friendship Bread is actually Amish. For me, the essence of the bread that's taken straight from the Amish playbook–share what you have with others. Since each recipe yields two loaves, you can keep one and give one away. I can't think of anything more perfect than that.
Start baking and stay connected
I have a regular newsletter, giveaways, challenges, and more. There are LOTS of ways to stay in touch–you can check out your options here. I look forward to being on this journey with you–thank you for being in the Kitchen with me.