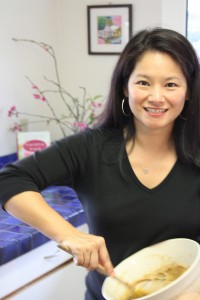 The Friendship Bread Kitchen was born on Facebook on January 13, 2010. The mission was simple: meet like-minded people who loved Amish Friendship Bread as much as I did, and maybe even swap a few recipes.
As the weeks progressed, the Kitchen started to grow. You know how Amish Friendship Bread starter bubbles and froths and then almost doubles in size? That's what was happening to the Kitchen. New people showed up every day. I posted literary quotes about friendship, found funny videos and inspiring blog posts about all things Amish Friendship Bread. I met lots of terrific people. I added more recipes and pictures of the bread. I met even more terrific people.
We kept growing and growing.
In 2011 it became clear that we were outgrowing our Facebook page (we're currently 72,000+ strong). It was hard for people to find recipes or engage in discussions with other members of the page. We couldn't edit discussion posts, only add to them, and they were becoming cluttered and unwieldy. People–including me–were going all over the page, trying to find the right answers to their questions.
It was time for a new home.
So here we are. We love our cozy new space, and it's the perfect place to share Amish Friendship Bread recipes, tips, stories, and community. Friendship Bread: A Novel also resides here, so readers and book clubs can feel right at home as they find what they need and get lots of ideas for making the bread in their own kitchens.
So pull up a chair, grab a cup of coffee or tea, and join the conversation. I'm glad you found us.
---
Are you in any of these places? So are we! Hope to see you there.
Facebook | Twitter | Foodbuzz | Allrecipes
View our Terms of Use.