Hey there and welcome, Amish Friendship Bread bakers!
The Friendship Bread Kitchen is a place to kick up your feet and share recipes, tips, stories, and community. If you're reading this, you've most likely received a bag of Amish Friendship Bread starter and you're figuring out what to do next. Or maybe you've been baking with the starter for a while and want to find new ways to bake with it. Maybe you reguarly gift the starter or the bread to friends, and want cute printables and gift tags. Whatever your reason, we're glad to have you here!
We hope to be your go-to for all things Amish Friendship Bread, and that we help keep you inspired to make and share it. That's what it's all about, after all!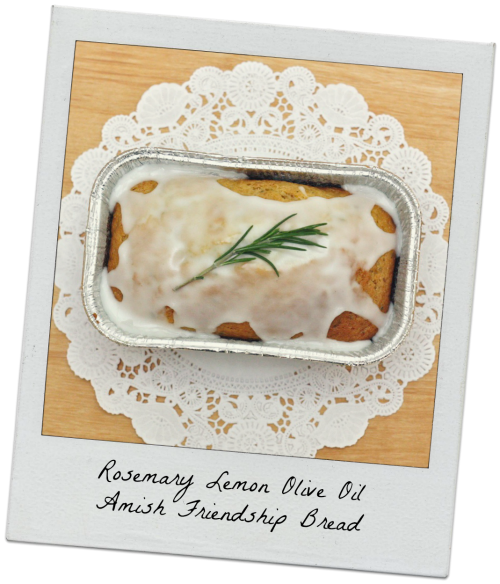 What you'll find at the Friendship Bread Kitchen
Amish Friendship Bread recipes, tutorials, the occasional blog post, the occasional newsletter, the occasional giveaway, and free printables to help you gift your Amish Friendship Bread.
There's a lot of talk about whether or not Amish Friendship Bread is actually Amish. For me, the essence of the bread that's taken straight from the Amish playbook–share what you have with others. Since each recipe yields two loaves, you can keep one and give one away. I can't think of anything more perfect than that.
In the beginning …
The Friendship Bread Kitchen was founded by author Darien Gee, who began sharing Amish Friendship Bread recipes while writing her novel, Friendship Bread. The novel was released in 2010 by Ballantine Books (Penguin Random House) and was published in eleven languages. Her follow-up novel, The Avalon Ladies Scrapbooking Society, as well as An Avalon Christmas and An Avalon Valentine, continue to share the stories of the residents of the small river town of Avalon, IL, and how Amish Friendship Bread brings them together.
As of mid-November 2021, Darien can be found on her author page. Friendship Bread Kitchen friends and fans are invited to join her private mailing list here. She is no longer involved with the Friendship Bread Kitchen and we are unable to send your inquiries to her directly. We maintain her vision of offering resources and a strong community to help you bake and share Amish Friendship Bread with others!
You might have seen us in …
We've been lucky enough to get some cool press and snaps over the years, like on National Public Radio, Saveur, Grit, as well as regional newspapers, blogs, podcasts, and magazines.
Start baking and stay connected
How do you want to stay in touch and be involved? Are you a loner, preferring to browse on the side? Or do you love to experiment and need ideas from others? Maybe you go through Amish Friendship Bread baking phases and are looking for printables to gift the bread to others? We have a regular newsletter with weekly recipes and updates, giveaways, challenges, and more–you can check out your options here!
Thanks for being in the Kitchen with us!