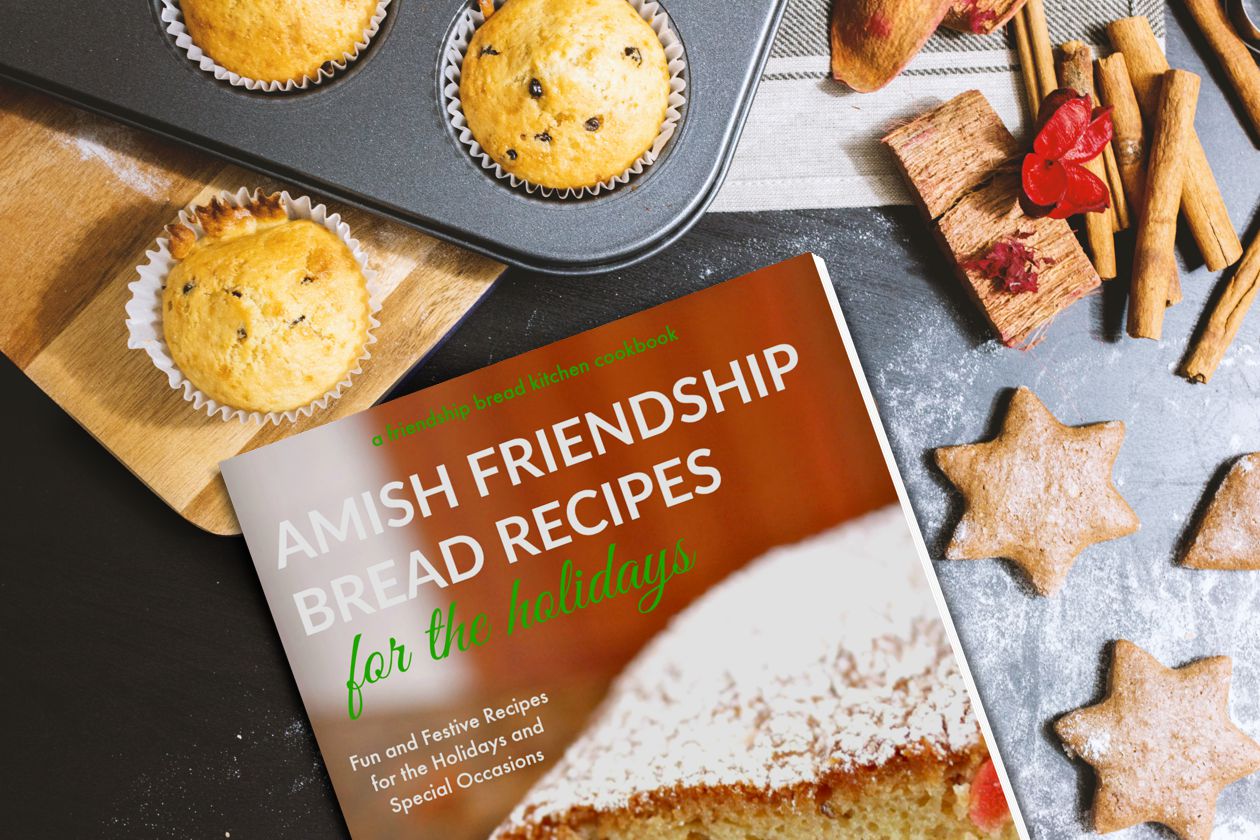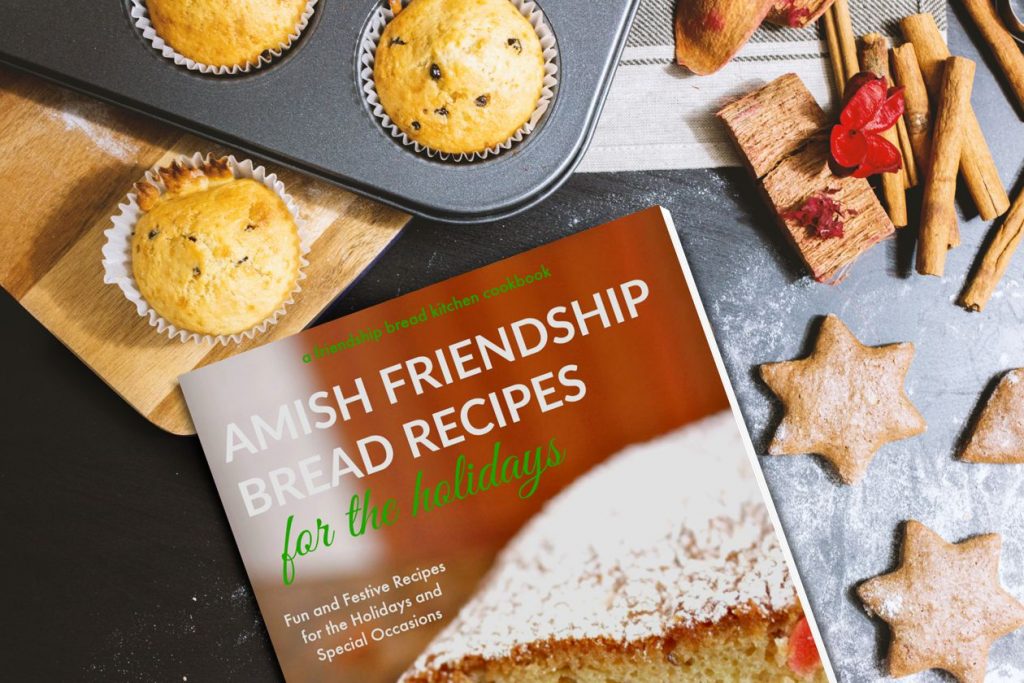 Jump to our other cookbooks:
Quick and Easy Amish Friendship Bread Recipes | Amish Friendship Bread Recipes With a Twist
>> Have a Kindle? Grab your copy on Amazon here.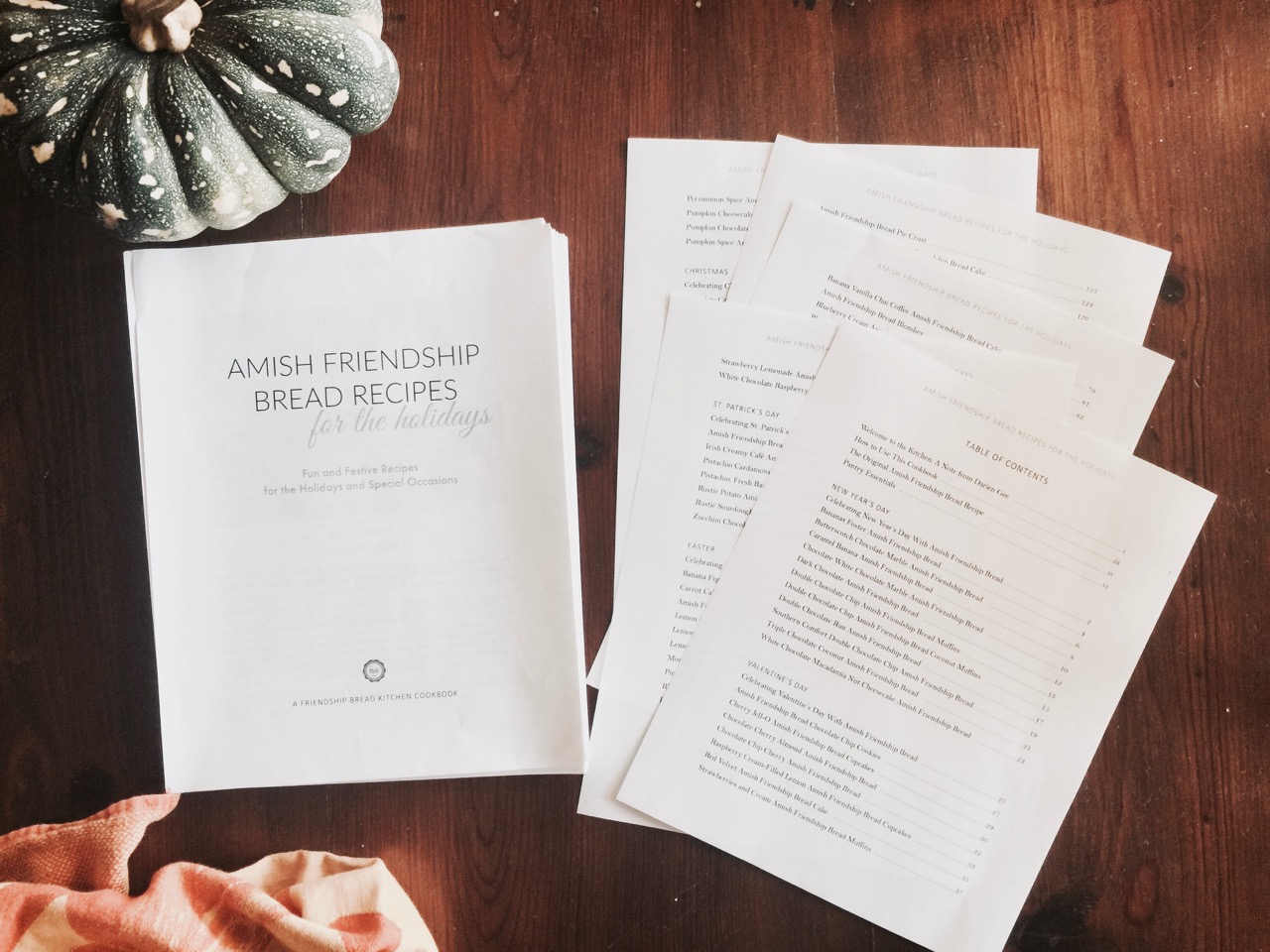 Fun and Festive Holiday Amish Friendship Bread Recipes


Proceeds from the sale of this PDF and Kindle cookbook will be donated to national and international relief organizations.
Celebrate the holidays in style with over 100 Amish Friendship Bread recipes for Valentine's Day, Easter, Halloween, Thanksgiving, and Christmas. That's over 200 pages in this cookbook alone!
If any gift rules supreme during the holidays, it's edible gifts. Loaves, cupcakes, three-layer cakes, cookies, brownies, muffins, you name it. Made with love, edible gifts are a wonderful way to let someone know you are thinking of them, and with one cup of Amish Friendship Bread starter you can make almost anything!
Amish Friendship Bread starter has a sourdough base that includes sugar, milk, and flour resulting in a sweet, delicious treat. A culinary "chain letter" that has circulated throughout the United States and Europe (as Herman or Hermann bread) for decades, Amish Friendship Bread is about community and sharing what we have with others.
Inside you'll find our favorite holiday recipes for New Year's Eve/New Year's Day, Valentine's Day, St. Patrick's Day, Easter, Mother's Day, Father's Day, Independence Day/Fourth of July, Halloween, Thanksgiving and Christmas, along with gift-giving tips and ideas! We pulled together our best recipes from the Friendship Bread Kitchen Recipe Box and cookbooks, as well as brand new recipes that can only be found in this special cookbook.
Click on the button below to buy the PDF for only $8.99 and download it instantly, or if you prefer to read on your Kindle, click here!

Praise for the Recipes at the Friendship Bread Kitchen
"This is one of the best variations that I have tried! Thank you!" Cherri Bosecker on Spiced Pumpkin Amish Friendship Bread
"It came out full of flavor and so moist and delicious! When I took it to the coffee group, everyone couldn't stop talking about it! Thank you for such a wonderful recipe." Bambi Petrillo on Chocolate Pumpkin Amish Friendship Bread
"Made these the other day and brought some into the office with me… everyone loved them!" Wai on Carrot Cake Amish Friendship Bread
"Holy moly! This was delicious! I used canned pumpkin and it came out a.m.a.z.i.n.g. The people at work devoured it and begged for more." Michelle S. on Pumpkin Cheesecake Amish Friendship Bread
"5 stars!" Sue Easty on Spiced Pumpkin Amish Friendship Bread
"I love how chocolatey these are, with just a hint of peppermint. We store them in the fridge in a Ziplock and they stay cool and chewy!" Liz Shields on Chocolate Junior Mint Amish Friendship Bread Cookies
"It was delicious!" Tina King on Caramel Apple Amish Friendship Bread
"Came out perfect and yummy!" Erin on Eggnog Amish Friendship Bread
"Just made this today and had my first slice. It was AMAZING!!" Pat Cole on Gingerbread Amish Friendship Bread
"I made this today, but instead of adding candy canes, I added crushed Peppermint Kisses (white chocolate flavored Hersey kisses). I added a teaspoon of peppermint extract to add to the minty flavor since I only had chocolate pudding in my pantry. Yum!!" Lesa on Chocolate Candy Cane Amish Friendship Bread
So start planning for the holidays! Grab your bag of starter (or make one from scratch—instructions included!) and get ready to have some fun. Get your copy today!