Jump to our other cookbooks:
Amish Friendship Bread Recipes With a Twist | Amish Friendship Bread Recipes for the Holidays
>> Bought the cookbook and looking for the bonus gift tags and recipe card download page? Have your password ready (found in the back of your book) and click here.
>> Have a Kindle? Grab your copy on Amazon here.
>> EXCITING UPDATE! Your PDF purchase now includes TWO versions: a full-color version for iPads and devices PLUS a simple version for easy printing!
A Special Kind of Cookbook
Ever receive a bag containing a cup of Amish Friendship Bread starter? Have questions about what to do or how to maintain your starter? Tired of the basic recipe and need some fresh inspiration? Quick and Easy Amish Friendship Bread Recipes: An Amish Friendship Bread Primer with Over 50 Recipes to Bake and Share with Others is the answer.
With over 50 kitchen-tested Amish Friendship Bread recipes curated and created by the Friendship Bread Kitchen, you'll find the right recipe for any occasion. Learn quick tips and tricks from members of the 75,000+ Friendship Bread Kitchen community. Bake loaves, cakes, muffins and more to share with friends and family.
This special 94-page full color e-cookbook edition includes an Amish Friendship Bread primer with bonus material like making your own starter from scratch. There are also recipe cards and gift tags (via a password-protected link) to make gifting your bread easy, all for only $9.99.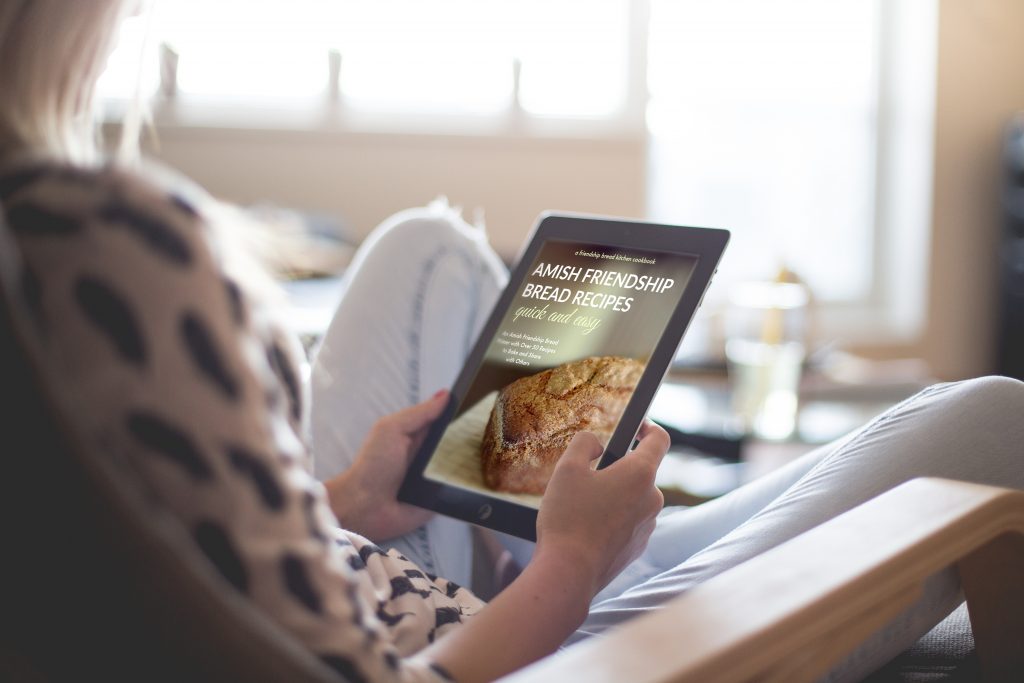 Inside You'll Find Over 90 Pages Packed With:
50 quick and easy Amish Friendship Bread recipes, including exclusive variations found only at the Friendship Bread Kitchen
a primer with everything you've ever wanted to know about starting, maintaining, baking and sharing Amish Friendship Bread
kitchen and pantry essentials so you can make Amish Friendship Bread anytime
answers to frequently asked questions about caring, maintaining and sharing your starter
kitchen tips and comments from home bakers just like you
over 50 beautiful color photos
a PDF link to gift tags, friendship quote cards and recipe cards so you can print your own for year-round gift-giving
total file size is under 10MB for easy storage and printing
updates are automatic so you're sure to have the latest version of the cookbook, no matter when you purchased it

Take a Sneak Peek!
Want to take a closer look? You can download a sampler of the cookbook or view the pages below (the Kindle e-cookbook has optimized with simpler formatting for easier viewing):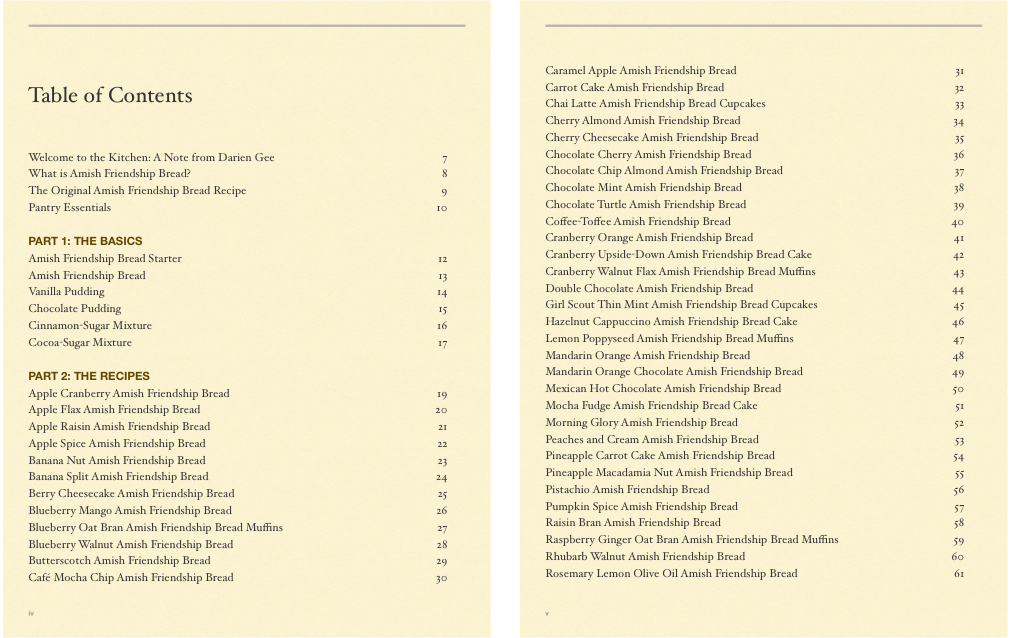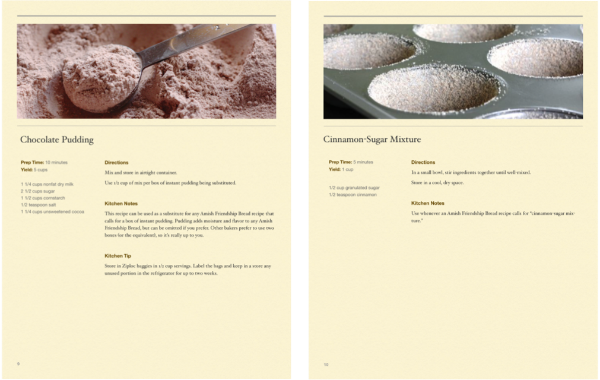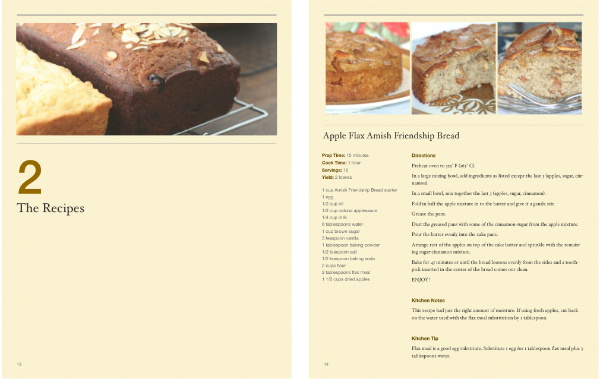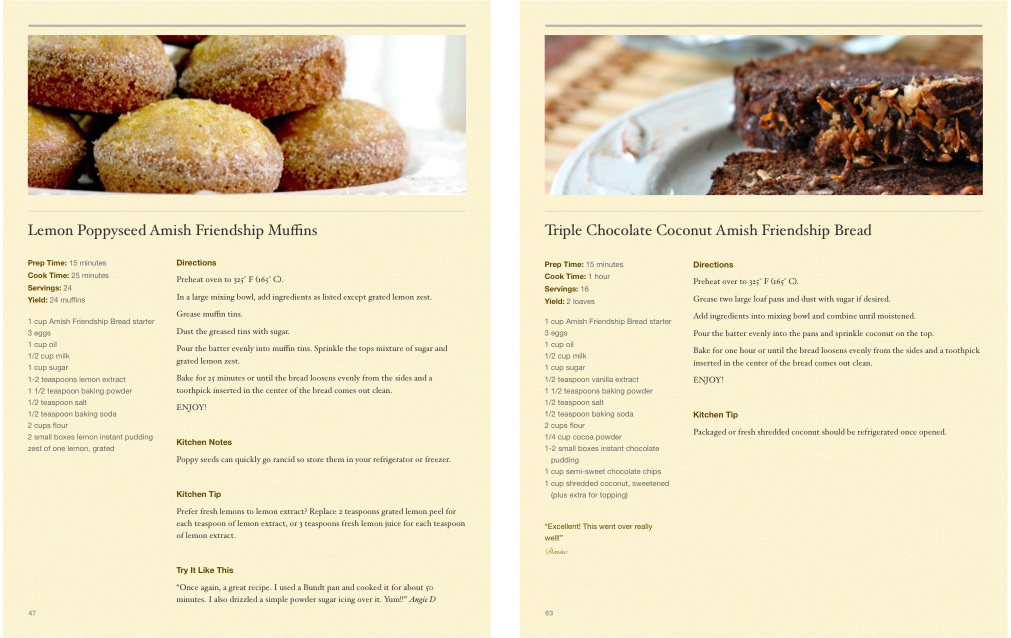 Get started today and learn how to make delicious Amish Friendship Bread you can share with others.

Look for other Friendship Bread Kitchen titles, coming in 2015: Amish Friendship Bread for the Holidays and Amish Friendship Bread Recipes With a Twist: Artisan Breads, Biscotti, Cookies, Pancakes and More. Still not sure? Check out a sampler of the PDF cookbook here for a closer look (requires Adobe Reader). If you'd like to order the cookbook for your Kindle, click here. Please note the Kindle book contains the same content but is optimized for file size so the layout may appear differently from the PDF cookbook.
Praise for the Recipes at the Friendship Bread Kitchen
This recipe is stellar! I used up some baggies of starter from my freezer and made 10 loaves (8 were small loaves for gifts) this past Christmas. This will definitely be my go-to gift bread recipe. One of the people I gave a loaf to said it was "divine." I agree!" Michelle S. on the Double Chocolate Rum Amish Friendship Bread

Just made this today and had my first slice (I love the ends) and it was AMAZING!! This is definitely a keeper and I will be sharing it with my co-workers tomorrow." Pat Cole on Gingerbread Amish Friendship Bread

I made this recipe into muffins and put the strusel on top…they were amazing!" Shelley on Apple Cinnamon Streusel Amish Friendship Bread

Thank you so much! I have learned so much and look forward to a day of baking and sharing with friends today!" Heather

LOVE this!!" Marilee on Mandarin Orange Amish Friendship Bread

Love this variation of Amish bread…Yummy!!!" Ruthi on Banana Nut Amish Friendship Bread

Made 10 loaves today, love this recipe!" Ladara McCain on Butterscotch Amish Friendship Bread
30-Day Money-Back Guarantee
Your PDF purchase is backed by a 30-day money-back guarantee. I want you to love this cookbook!
Thank You
Thank you for taking the time to check out Quick and Easy Amish Friendship Bread Recipes. I'm grateful that you're a part of the Friendship Bread Kitchen community and I hope you find the recipes in the cookbook and on our website both helpful and fun!