This recipe from Kitchen Friend Wai Chan uses your one cup of Amish Friendship Bread starter to make a great appetizer or healthy and nutty treat.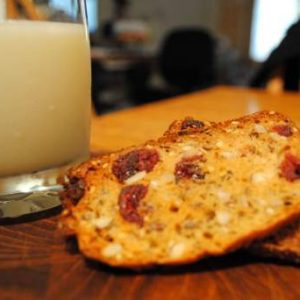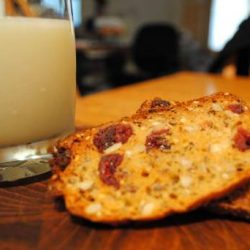 Cranberry & Hazelnut Raincoast Amish Friendship Bread Crisps
These cranberry and hazelnut raincoat Amish Friendship Bread crisps make a great appetizer or healthy and nutty treat.
Instructions
Preheat oven to 350° F (177° C).

In a large bowl, sift together the flour, baking soda and salt.

Stir in the starter, buttermilk and honey.

Add in the remainder of the ingredients and stir until just blended.

Grease two 8 x 4 loaf pans.

Pour in the batter.

Bake for about 35 minutes, until golden and springy to touch. Remove from pans and cool on wire rack.

The cooler the bread, the easier to slice really thin (leave it till the next day or pop it into the freezer for partial freeze).

Slice the loaves as thin as you can and place them in a single layer on an ungreased sheet.

Reduce oven to 300° F (148° C).

Bake slices for about 15 minutes, then flip them over and bake for an addition 10 minutes, until they become crisp and deep golden.

Let cool slightly and enjoy!

ENJOY!
Notes
Use a sharp, serrated knife works to slice the loaf. The end product definitely looks rustic and not necessarily neat and pretty but they taste amazing! For the perfect appetizer, serve with a dab of sweet red pepper jelly, or some soft creamy cheese.