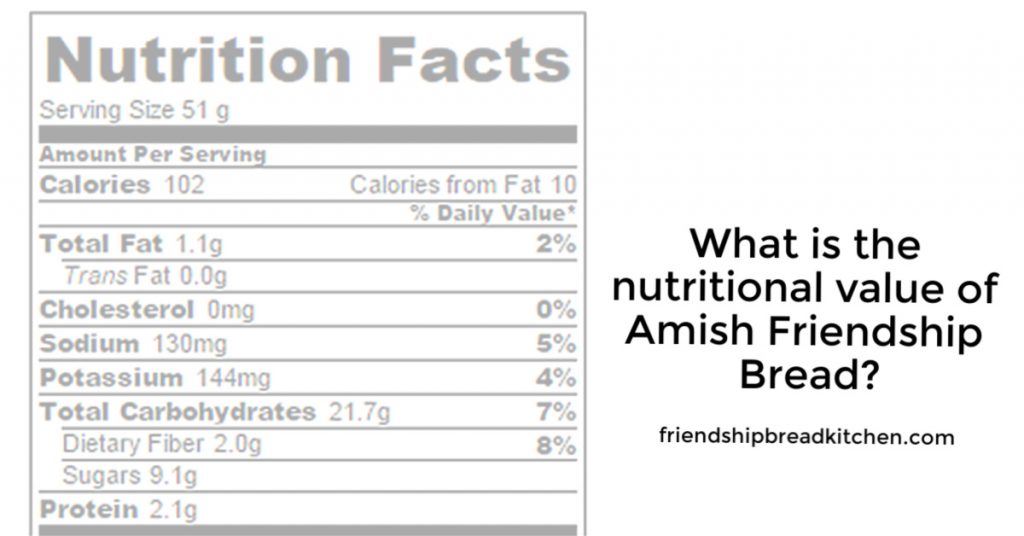 What's the nutritional value for an Amish Friendship Bread recipe?
There aren't nutritional values for Amish Friendship Bread recipes for one simple reason: it's hard to measure the nutritional value of one cup of Amish Friendship Bread starter because everyone's starter differs in age. And because EVERY recipe of this site has one cup of starter in it (the toppings and glazes being the exception), we can't accurately calculate the nutritional value of the recipes.
What stage is your starter in?
By "age," I mean the stage at which your starter has metabolized the flour, sugar, and milk. Typically, cooler kitchens will have slower starters, and warmer kitchens will have faster ones. A starter that has just been made (Day 1) or recently fed (Day 6 or Day 10) will have a different nutritional composition than other days (Days 2-5, Days 7-9). Without getting too scientific, the biochemical reactions and changes are hard to measure–CO2 is being released, liquid content is changing, ethanol acids and lactic acids and other compounds are being created, and enzymes are feeding on the sugars.
More and less
A starter that's just been fed will have more sugar than one that is waiting to be fed and the sugars have already been metabolized. And since people may use their starter in recipes at different stages, not just on Day 10, the nutritional value of the starter itself varies. Plus there is the question of nutritional benefits of fermented (sourdough) starters.
Varying glycemic indexes
The diabetes expert on dlife.com, Susan Watkins (RD, CDE), says that sourdough bread "has surprisingly a low glycemic index compared to many other types of bread due to the lactic acid produced in the fermentation process." Since Amish Friendship Bread is made from a type of sourdough starter, especially if you've been keeping your starter going for a while, it means your starter isn't just flour, sugar, and milk because of the chemical changes happening every second.
If you're diabetic, Amish Friendship Bread is something you'll want to eat in moderation, if at all. In addition to the starter, AFB is made with more flour, sugar, and milk on baking day. This is where the caveat comes in: I'm not a medical or nutritional expert, so please check with your doctor if you have any questions.
A simple calculation
If all else fails, you can use this simple calculation to determine the possible nutritional value of the starter (not the entire recipe):
1 cup flour
1 cup sugar
1 cup milk
The serving size will depend on what you're making. If you are baking two loaves with eight slices each, that would be 16 servings. Again, this is for an UNMETABOLIZED starter.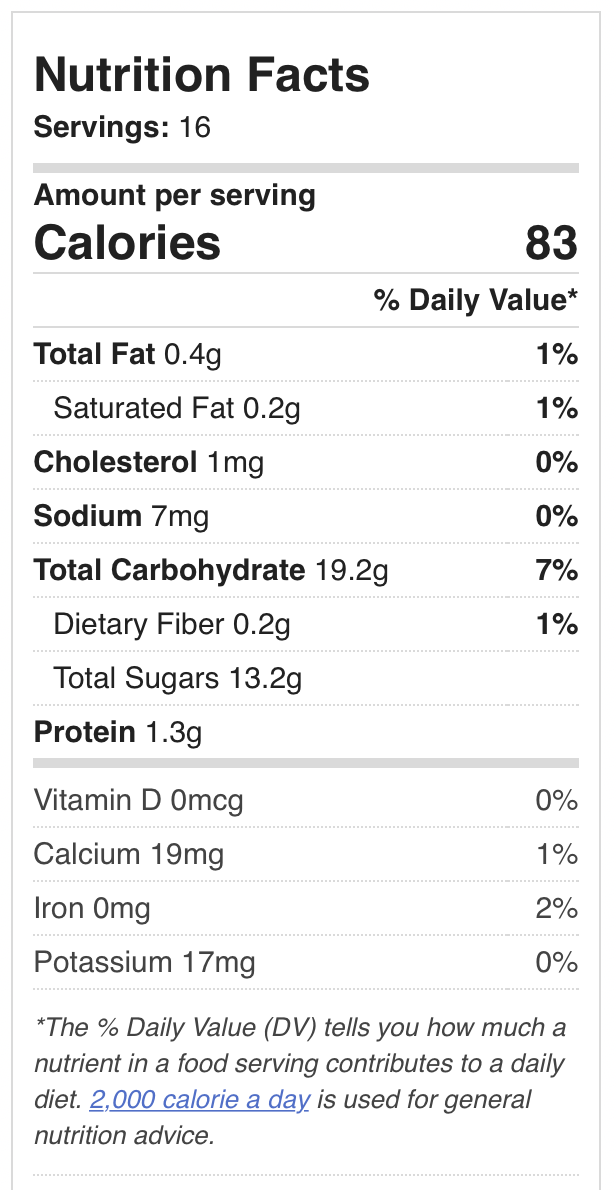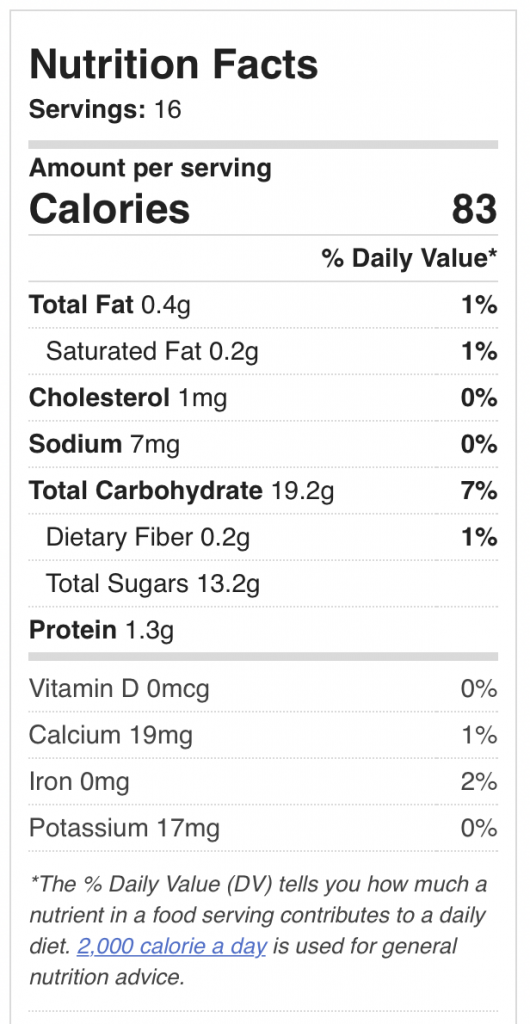 If you are baking 24 muffins, the serving size would be 24. Again, also for an UNMETABOLIZED starter: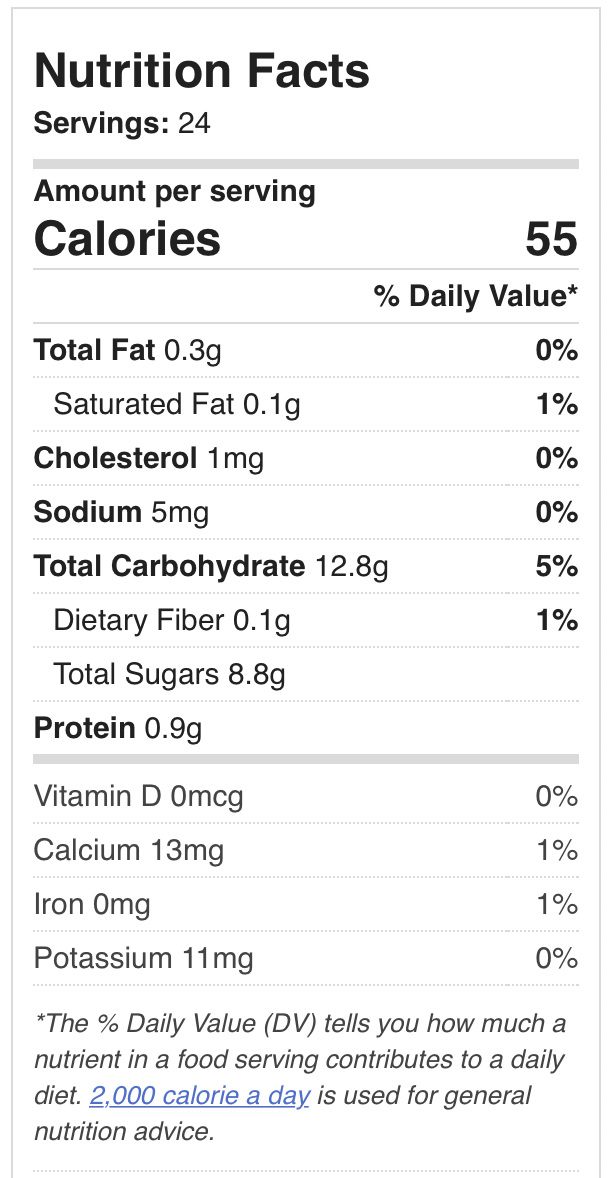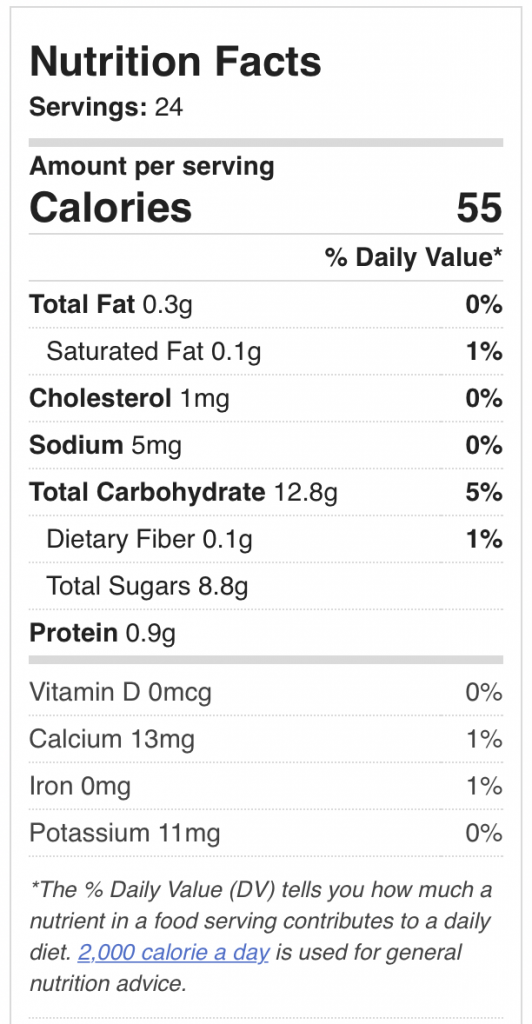 This calculation is not entirely accurate, but it's one way to get information that can help you decide which recipe to make and/or how much to eat. If anything you'll be counting additional carbs that might not be there, which may be the safer bet if you are diabetic and needing to be extra careful.