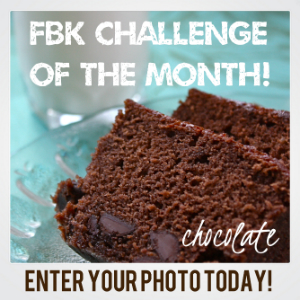 This challenge has closed! The winner is Tammy Deatrich from Mercersburg, PA, for her Double Chocolate Amish Friendship Bread with Peanut Butter Cups. Her bread (and photo) turned out beautifully, and we could taste each chocolately peanut butter bite as she described it!
Bonus: Everyone who participated will receive our Chocolate AFB recipe e-booklet, available in the summer of 2013, as a special thank you for being a part of our first FBK Challenge.
Baking in April? Make a spices and/or nuts variation and submit your photo!
---
Bake one of these recipes or come up with your own chocolate variation (remember that all recipes must include 1 cup of Amish Friendship Bread starter). Then snap a picture and submit it before 3/31/13. The winner will receive a $10 Amazon gift card! For submission information, please go to the main Friendship Bread Kitchen Challenge page.
Chocolate Variations in the Recipe Box:
Almond Joy Amish Friendship Bread

Amish Friendship Bread Chocolate Caramel Brownies

Amish Friendship Bread Chocolate Chip Cookies

Amish Friendship Bread Chocolate-Covered Craisin Muffins
Amish Friendship Bread Double Chocolate Chip Muffins

Amish Friendship Bread Ice Cream Sandwiches

Amish Friendship Bread Mocha Chip Scones

Amish Friendship Bread Peanut Butter Brownies

Amish Friendship Bread Peanut Butter Filled Brownie Muffins

Amish Friendship Bread S'more Muffins
Banana Split Amish Friendship Bread
Black Forest Amish Friendship Bread

Brownies
Brownies II

Butterscotch Chocolate Marble Amish Friendship Bread

Cafe Mocha Chip Amish Friendship Bread

Cafe Mocha Chip-Filled Amish Friendship Bread Cupcakes

Chocolate Amish Friendship Bread

Chocolate Candy Cane Amish Friendship Bread

Chocolate Cherry Almond Amish Friendship Bread

Chocolate Chip Cherry Amish Friendship Bread

Chocolate Chip Oatmeal Amish Friendship Bread Cookies
Chocolate Chip Pancakes

Chocolate Chocolate Chip & Coconut Amish Friendship Bread Muffins

Chocolate Coconut Cream Amish Friendship Bread Cake

Chocolate Craisin Amish Friendship Bread Muffins

Chocolate Marble Amish Friendship Bread

Chocolate Mint Amish Friendship Bread

Chocolate Peanut Butter Amish Friendship Bread

Chocolate Pumpkin Spice Amish Friendship Bread

Chocolate Turtle Amish Friendship Bread
Cinnamon Chocolate Cranberry Pecan Amish Friendship Bread

Coffee-Toffee Amish Friendship Bread
Dark Chocolate Amish Friendship Bread

Double Chocolate Amish Friendship Bread

Double Chocolate Rum Amish Friendship Bread

German Chocolate Amish Friendship Bread
Girl Scout Samoa Amish Friendship Bread

Girl Scout Tagalongs Amish Friendship Bread

Girl Scout Thin Mint Cookie Amish Friendship Bread

Gluten Free Chocolate Butterscotch Amish Friendship Bread

Mandarin Orange Chocolate Amish Friendship Bread

Mexican Hot Chocolate Amish Friendship Bread
Mocha Fudge Amish Friendship Bread Cake
Mounds Bar Amish Friendship Bread
Nutella Chocolate Amish Friendship Bread

Oreo & Cream Amish Friendship Bread

Peanut Butter Chocolate Chip Amish Friendship Bread

Pistachio, Fresh Basil and Chocolate Amish Friendship Bread

Pumpkin Chocolate Chip Amish Friendship Bread

Raspberry Chocolate Macadamia Nut Amish Friendship Bread

Southern Comfort Double Chocolate Chip Amish Friendship Bread

Triple Chocolate Amish Friendship Bread

Triple Chocolate Coconut Amish Friendship Bread

Zucchini Chocolate Chip Amish Friendship Bread
---
Here are the qualified entries so far:
1. & 2. Chocolate/White Chocolate Marble Amish Friendship Bread, submitted by Kira Endicott (Winfield, KS). "Use a toothpick to make swirl designs if you would like, but just leaving the layers of batter looks great, too. This bread is super moist and tastes wonderful when warmed up."
3., 4. & 5. Peanut Butter Chocolate Chip Amish Friendship Bread and Coconut Walnut Chocolate Chip Amish Friendship Bread, submitted by Kathryn Jensen (Spring, TX). "It had been years since I had used the friendship bread starters so last month I decided to go another round. Since then it has taken off, and my original starter has now traveled as far from Houston as Tennessee 🙂 Very Exciting!!"
6. Chocolate Amish Friendship Bread, submitted by Nancy Hubbard (Walla Walla, WA). "Even my friendship bread is smiling!"
7. Dark Chocolate and Almond Amish Friendship Bread, submitted by Lucia Ciattaglia (Marche, Italy). "I made this cake last Sunday morning then I invited a dear friend for tea. Every now and then we take time just to ourselves!"
8. Gluten-Free Chocolate Amish Friendship Bread Brownies, submitted by Beverly Horner (Ulysses, Kansas). "I sprinkled the nuts on top, in case those I gave them to didn't care for nuts."
9. Peanut Butter Chocolate Chip Amish Friendship Bread Cookies, submitted by Michele Neiber (Rockford, IL). "I like to add milk chocolate chips to the peanut butter cookie recipe — it makes them really good."
10. Nutella Chocolate Amish Friendship Bread, submitted by Kathy Cooper (Terre Haute, Indiana). "Make and bake often!"
11., 12., 13. & 14. Gluten Free Chocolate Cranberry Amish Friendship Bread, submitted by Beverly Horner (Ulysses, KS). "I wanted to do something besides regular loaves so I baked two in small round casserole dishes. They turned out very well."
15. Double Chocolate Amish Friendship Bread with Peanut Butter Cups, submitted by Tammy Deatrich (Mercersburg, PA). "I omitted the chocolate chips and added 24 crushed miniature chocolate peanut butter cups. A nice peanut butter surprise in every piece!"