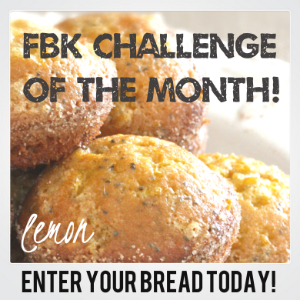 This challenge has closed! The winner is Michelle Sears, #8, for her photo of the Triple Lemon Amish Friendship Bread variation. Her bread (and photo) turned out beautifully, and we appreciated her special notes about how she gifts her friendship bread.
Bonus: Everyone who participated will receive our Lemon AFB recipe e-booklet, available in the summer of 2013, as a special thank you for being a part of our first FBK Challenge.
Baking in March? Make a chocolate variation and submit your photo!
---
Bake one of these recipes or come up with your own lemon variation (remember that all recipes must include 1 cup of Amish Friendship Bread starter). Then snap a picture and submit it before 2/28/13. The winner will receive a $10 Amazon gift card! For more information, go to the main Friendship Bread Kitchen Challenge page.
Lemon Variations in the Recipe Box:
Lemon Amish Friendship Bread

Lemon Amish Friendship Bread Muffins

Lemon Blueberry Amish Friendship Bread
Lemon Cheesecake Amish Friendship Bread

Lemon Cheesecake Amish Friendship Bread (Sugar-Free)

Lemon Coconut Amish Friendship Bread

Lemon Cranberry Amish Friendship Bread Bundt Cake

Lemon Pineapple Whole Wheat Amish Friendship Bread

Lemon Poppyseed Amish Friendship Bread Muffins

Lemon Poppyseed Amish Friendship Bread Jell-O Variation

Raspberry Cream Filled Lemon Amish Friendship Bread Cupcakes

Rosemary Lemon Olive Oil Amish Friendship Bread

Triple Lemon Amish Friendship Bread
---
Here are the qualified entries so far:
1. Lemon Pineapple Whole Wheat Amish Friendship Bread, submitted by Jennifer Robinson (Springfield, OH). "It has become a family favorite!"
2. & 3. Lemon Pine Nut Amish Friendship Bread, submitted by Lucia Ciattaglia (Marche, Italy). "This bread photo was taken on the eleventh day, when I baked it."
4. Lemon Poppyseed Amish Friendship Bread, submitted by Diana Allen (Brockville, Ontario). "I added some extra lemon flavor to the existing recipe by using the leftover lemon and white sugar. I heated them in a saucepan until translucent and then brushed the hot liquid on the top and sides of the loaf. I also halved the oil required and used applesauce instead to maintain the moisture balance."
5. Raspberry Cream Filled Lemon Amish Friendship Bread Cupcakes, submitted by Jill Emery (North Conway, NH). "I make my own lemon and vanilla bean extracts."
6. Lemon Cheesecake Amish Friendship Bread with Lemon Glaze, submitted by Nancy Hubbard (Walla Walla, WA). "These two "treats" were made with the help from my 5- and 7-year old grandsons. One stirred the dry ingredients together; one stirred the sour cream and cream cheese together while I stirred the starter and other wet ingredients…it was quite a trio…then the boys watched the oven timer countdown. They gave their mother one for a belated Valentine's Day treat!"
7 & 8. Triple Lemon Amish Friendship Bread, submitted by Michelle Sears (Wrentham, MA). "I baked up small loaves of Triple Lemon AFB to give as Valentine's Day gifts to some of my friends. I included a loaf in a cute owl bag, a hand knit dish cloth, starter, and instructions. I put the spoon in the photo, but there's no way I'm giving that away! 🙂 I packaged everything up in some clementine boxes I'd been saving, included a note and surprised them with a gift from my heart and kitchen."
9 & 10. Lemon Poppyseed Amish Friendship Bread, submitted by Michele Neiber (Rockford, IL). "This is a photo of lemon poppy seed muffins taken in my kitchen."
11, 12 & 13. Gluten Free/Casein Free Lemon Cranberry Amish Friendship Bread, submitted by Beverly Horner (Ulysses, KS). "If you use frozen cranberries, don't thaw them out … I just chopped them frozen."
14. Gluten Free/Casein Free Lemon-Lime Amish Friendship Bread, submitted by Beverly Horner (Ulysses, KS). "It has a slightly green tinge, which makes it good for St. Patrick's Day."
15. Lemon Ginger Bread with Lemon Ginger Glaze, submitted by Kira Endicott (Winfield, KS). "Mix wet and dry ingredients separately and combine the two at the last minute making sure you have the pan(s) and oven are ready. Due to the lemon juice and baking soda, once the wet and dry are combined it will start to fizz. This is why it is important not to mix the wet and dry until the last minute. Cake will still rise as it should."