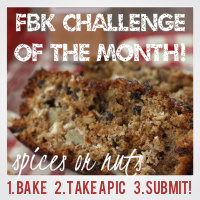 The winner of the Spices or Nuts Challenge is photo #25, the Pistachio Pecan AFB with White Chocolate Drizzle by Kristen Petersen from Palmdale, California. Congratulations, Kristen!
---
Kitchen Friends, help choose the winning photo!
Leave a comment here (or on our Facebook Wall) and vote for your top 3 favorite photos (in order of your top favorites). You can choose the photo you like best, or the recipe you'd like to try. Your reasons for your favorites are totally up to you, but let us know which ones you love! Click on each thumbnail to see the full image.
Voting runs from May 1 to May 10. I'll tally up on May 11, 2013 (if you're tallying up, too, be sure to incorporate votes from the Facebook wall posts, too). Each person can leave 1 comment (with your top three) here AND on our Facebook wall. So you get to vote twice, once in each place! Any multiple or additional comments will be deleted. Participants may vote as well, and it's okay if you vote for yourself. Spread the word and let people know your photo is in the running!
---
Bake one of these recipes or come up with your own variation (remember that all recipes must include 1 cup of Amish Friendship Bread starter). Then snap a picture (or two or three!) and submit it before 4/30/13. The winner will receive a $10 Amazon gift card and all qualifying participants will receive a copy of a recipe e-booklet when they're available later this summer. To submit your photo or for more information, please go to the main Friendship Bread Kitchen Challenge page.
Nut Variations in the Recipe Box:
Amish Friendship Bread Cinnamon Raisin Walnut Muffins

Amish Friendship Bread Good Morning Tropical Muffins
Amish Friendship Bread Nutty Cookies

Apple Cranberry Nut Amish Friendship Bread
Date Nut Spice Amish Friendship Bread
Maple Pecan Amish Friendship Bread Biscotti

Pineapple Macadamia Nut Amish Friendship Bread
Spice Variations in the Recipe Box:
Apple Spice Amish Friendship Bread

Coriander, Sweet Basil and Sea Salt Amish Friendship Bread
Good luck!
---
Here are the qualified entries so far:
1. AFB Dump cookies submitted by Sonya Adams (Gardnerville, NV). "This makes a lot of cookies and is very versatile…you can add anything to them! This is just what I tested on my family. I hope you enjoy them!"
2., 3. & 4. Paleo Pecan AFB submitted by Beverly Horner (Ulysses, Kansas). "This is a brand new experiment with Paleo cooking. I would reduce the coconut oil to 1/4 cup next time. For a first attempt it was very yummy, but not too sweet since I reduced the sugar. My son, who usually eats my gluten/casein free bread thought it was really good."
>> Get the recipe for Beverly's Paleo AFB starter here.
5., 6., 7. & 8. Gluten/Casein Free Pistachio AFB with Chocolate Sprinkles submitted by Beverly Horner (Ulysses, Kansas). "I made these goodies to share at church for St. Patrick's Day. My family also enjoyed them after their meal on St. Patrick's Day."
>> Get the recipe for a GF/Casein Free AFB starter here.
9. Amish Friendship Bread muffins with raisins and walnuts, submitted by Tammy Deatrich (Mercersburg, PA). "I love having muffins around for a snack. These are packed with raisins and walnuts and the great cinnamon AFB taste!"
10. Hazelnut Amish Friendship Bread, submitted by Diane Siniscalchi (Ringwood, NJ). "Instead of adding 1/2 teaspoon of vanilla, I added 1 full teaspoon of hazelnut extract along with the cup of toasted chopped hazelnuts. I also sprinkled the tops of the loaves with untoasted hazelnuts and cinnamon sugar. I was afraid that if I toasted the hazelnuts, that they might burn during baking. The nuts browned nicely."
11. & 12. Amish Friendship Bread with raisins and walnuts, submitted by Nancy Hubbard (Walla Walla, WA). "I gather all of the ingredients in one place. I have my wet items mixed in one bowl and all the dry ingredients in another, and then I begin to combine them. I do have the loaf pans greased and dusted before, so they are close at hand as well. A sinkful of hot, soapy water is made before-hand so that I just drop each utensil in the water as it has been used. I set the timer do the dishes and clean up, which takes about 15 minutes. Then I grab a glass of ice water, a quilting magazine and the aroma wafts through the house…it's just a warm, fuzzy, baking day!"
13. & 14. Paleo Caramel Toasted Nut Amish Friendship Bread, submitted by Beverly Horner (Ulysses, KS). "The secret to the caramel taste is dates, soaked and blended with coconut milk and vanilla creme stevia…yummy!"
15., 16., 17. & 18. Pumpkin Spice Cheesecake Amish Friendship Bread, submitted by Elizabeth Thums (Carpenter, WY). "I discovered the spicy flavors of the bread were an excellent accompanyment to drinking cinnamon-infused Turkish coffee."
19., 20., 21. & 22. Cherry Pecan Amish Friendship Bread Cupcakes, submitted by Diane Siniscalchi (Ringwood, NJ). "These cupcakes taste perfectly fine without the frosting, but the cherry frosting enhances the flavor of the cupcakes. I have a family of frosting lovers!"
23. & 24. Chocolate Almond Surprise Amish Friendship Bread Cupcakes, submitted by Diane Siniscalchi (Ringwood, NJ). "The melted chocolate [in the middle] and the surprise crunch of the almond make this cupcake a little more special."
25. & 26. Pistachio Pecan Amish Friendship Bread with White Chocolate Drizzle, submitted by Kristen Petersen (Palmdale, CA). "I used a regular Amish Friendship Bread recipe, substituting the vanilla pudding with two small boxes of pistachio pudding, omitting the cinnamon. I added about 3/4 c. chopped pecans and about 1 c. white chocolate chips to the batter. I coated the white chocolate chips and pecans in flour, in hopes that they would not all sink to the bottom. Before baking I topped with cinnamon and sugar mixture and some more chopped pecans. After it baked and cooled, I drizzled with white chocolate chips!"