This past month we hosted our first Bake and Take, where we asked people to bake Amish Friendship Bread and share a loaf with someone in need or someone who helped make their life a bit easier (your postman, librarian, child's teacher, and so on). Many of you took us up on our challenge and those stories are posted here.
Now I need your help in choosing a winner! Visit the page, decide on your top three favorites (give us their comment #), and LEAVE A COMMENT ON THIS PAGE (below) telling us who they are. One loaf or two, choose the stories that touch you the most. And, like always, REMEMBER TO TELL US WHERE YOU'RE FROM!
To thank you for taking the time to help us choose a winner, we're giving away a Kitchen favorite: the sweet set of Ganz heart-shaped measuring spoons that I posted on our Facebook wall in January! I found my set in a small store but haven't had much luck finding another set just like it (many came close, though). Not, at least, until now! These have a great weight, are shaped like keys, and have the following engraved on each spoon: a dash of joy (1/4 tsp), a pinch of friends (1/2 tsp), a spoon of family (1 tsp) and a heap of love (1 tbsp).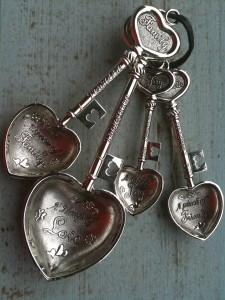 Please cast your vote today and tomorrow! If you participated in the Bake and Take, you can vote and cast a vote for yourselves. Again, the Bake and Take page is here but you must leave your comment on THIS page (below) with your top three votes (and their comment numbers) and where you're from to qualify for this giveaway! Ends 4/2/11 at 11:59 pm EST. Good luck!
---
This contest is now closed. The winner is Christina Roddy of Pleasant View, Tennessee! Congratulations, Christina!