These sourdough discard crackers (using a traditional sourdough starter) are one of the simplest homemade pantry projects you will ever make. The recipe is super easy, taking less than 5 minutes to mix up and is essentially fool-proof with lots of different combinations of spices, seeds and herbs to change them up. You'll be waiting for your next batch of discard to make these again!
When maintaining a jar of traditional sourdough starter, you will pour off some discard every time you feed your starter. This is critical in keeping your water-flour ratios correct to ensure your starter stays healthy. Some people pour off the discard and let it go down the drain, but we don't like to waste anything in the Friendship Bread Kitchen! Just add your discard to a jar in the fridge to keep it in top shape for baking, which makes it easy to bake whenever the sourdough craving strikes.
How to Make Sourdough Crackers: Preparing the Dough
The best way to create the perfect crackers from start to finish is to get your hands a little sticky, so roll up your sleeves and let's dig in!
Preheat your oven, and add all your ingredients except the herbs and seeds (or whatever else you plan to add) to a bowl. Squeeze everything together until you have a nice ball of dough.
How to Make Sourdough Crackers: Add the Mix-Ins!
Come up with your own combination of spices and herbs, or buy a premixed seasoning like Trader Joe's "Everything but the Bagel" seasoning (their Chili Lime is also pretty spectacular if you like a little salty heat). Some other creative options:
Za'atar or Chinese Five Spice
Hard cheeses like grated parmesan
Rosemary or thyme
Poppy, chia, fennel or pumpkin seeds
Dried garlic and/or onion powder
The possibilities are endless!
Once you have your sourdough crackers seasoned to your liking, it's time to roll them out. Do this directly on a sheet of parchment paper so you can place everything directly onto your baking sheet. You can make the thickness however you like (⅛" is standard), but what's most important is that the thickness is even across the entire batch. Watch your crackers carefully when baking to make sure they don't burn.
How to Make Sourdough Crackers: Cut and Bake
Finally, rub some olive oil on the dough with your fingers so they achieve a nice color in the oven. Then slice in your desired size and shape. You can eyeball it or use a ruler or straight edge. You can also use the prongs of a fork to poke some holes in the dough (a good option when making thicker crackers).
The most popular shape is a traditional square/rectangle, but you can easily cut them into triangles or even longer rectangles that might present nicely upright in a serving bowl. Mix up a little French onion dip or a spicy hummus to serve alongside. A great housewarming gift is to pair it with a jar of homemade friendship soup!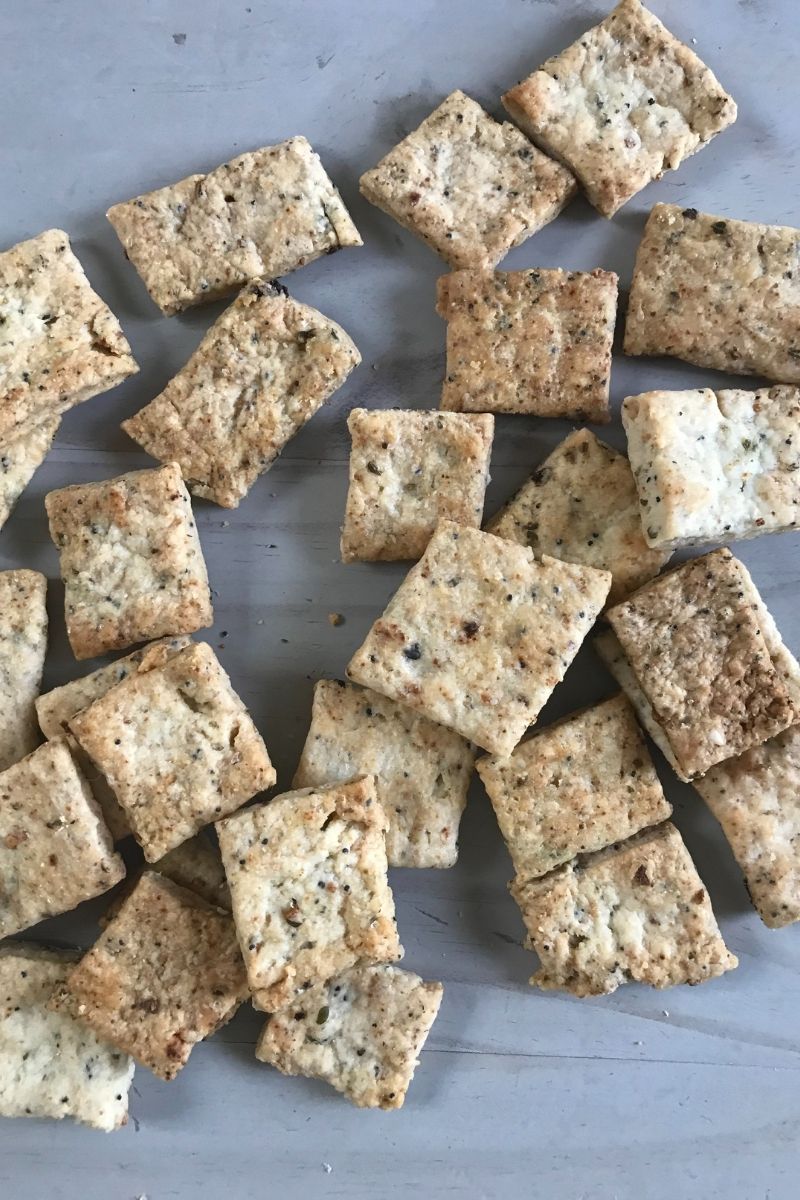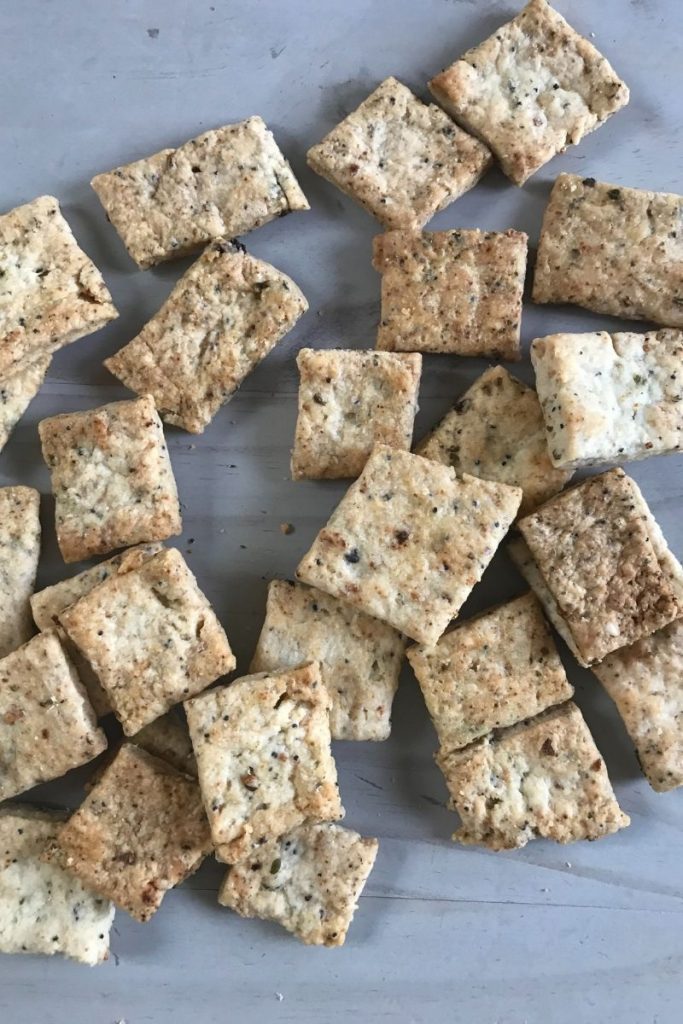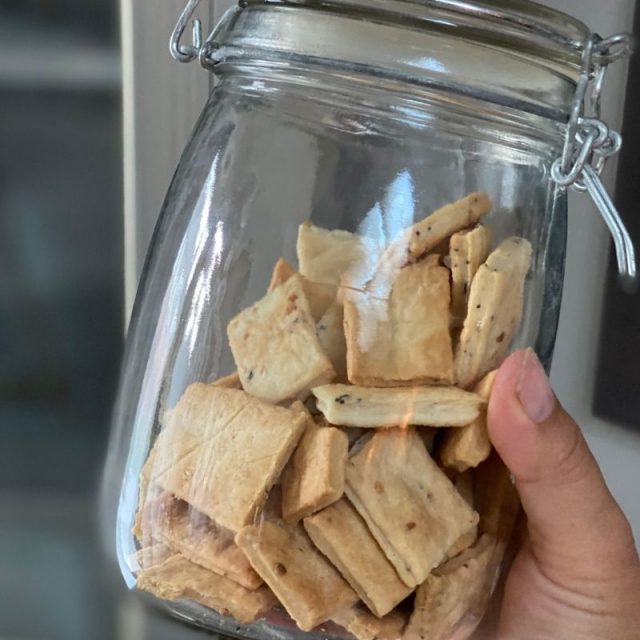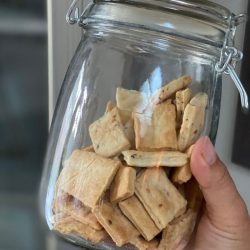 Sourdough Discard Crackers
5 minutes and some creativity are all it takes to make homemade sourdough crackers. It's a small batch, but that means you can enjoy them all before they are stale.
Instructions
Heat the oven to 350 degrees. Mix all ingredients together except for herbs/seeds. It will be difficult to mix at first so use your hands and squeeze it until it resembles a smooth dough.

Mix in herbs/seeds until thoroughly combined.

Roll out super thin on parchment paper on a baking tray

Rub all over with olive oil, sprinkle with sea salt and cut in squares.

Bake for 30 min. Let cool fully.

Enjoy!
Notes
Other ideas for toppings include: Chili powder, za'atar seasoning, add cheese to the mixture, chia seeds, everything bagel…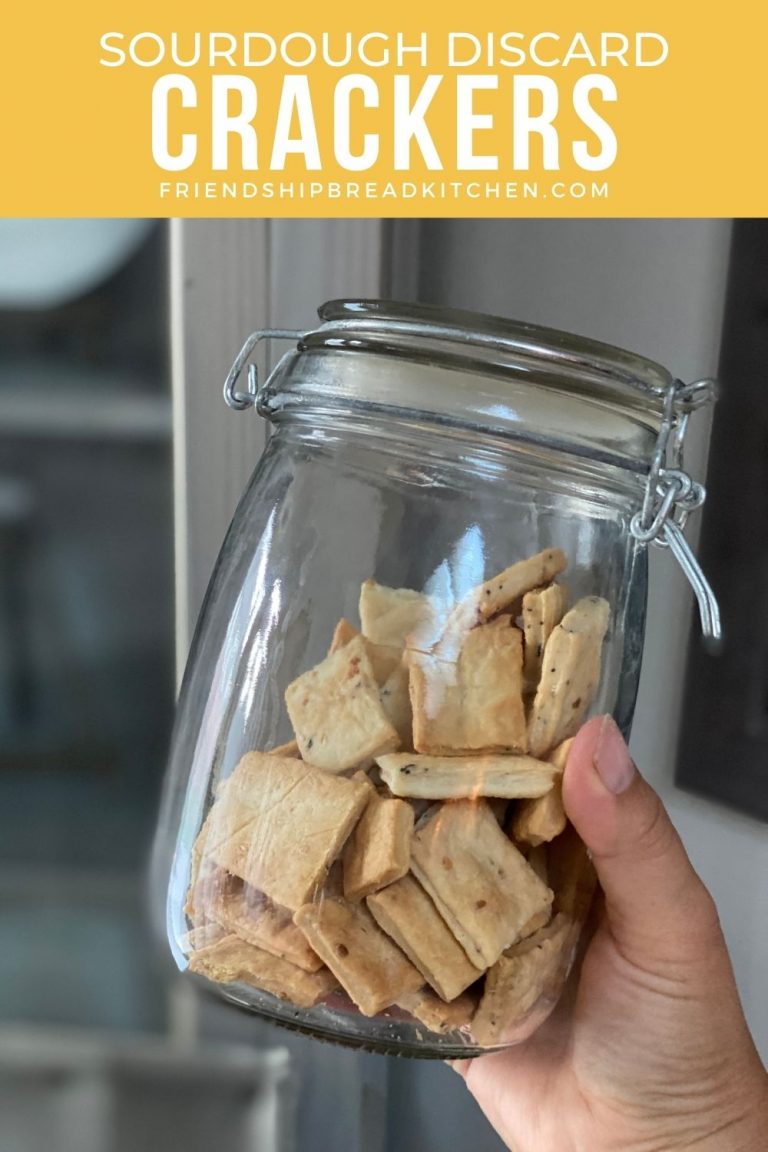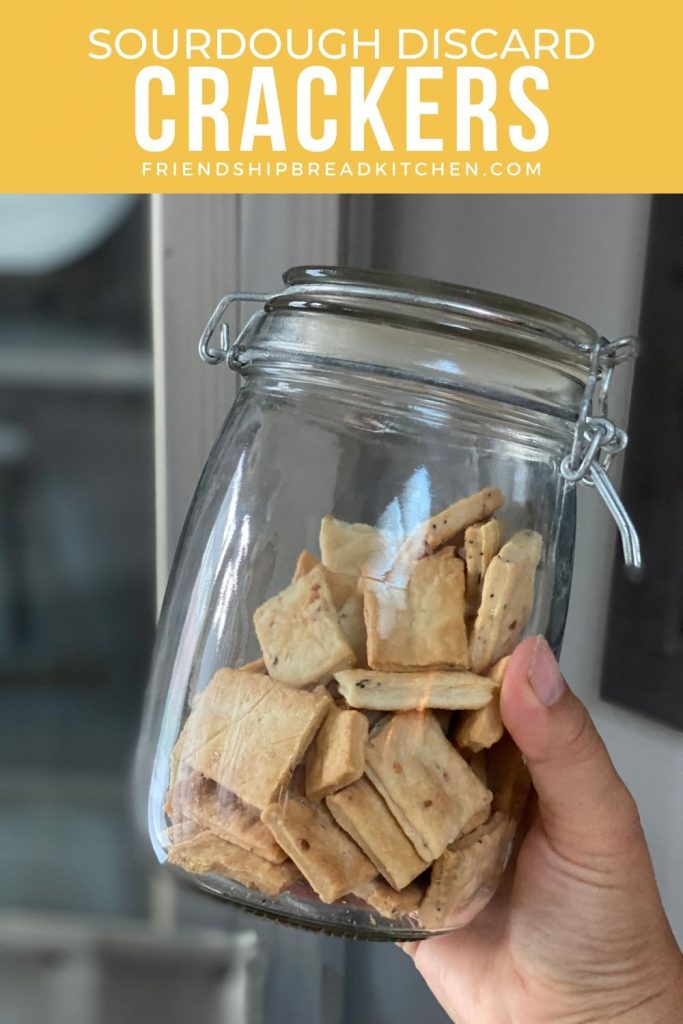 If you love cooking with herbs and seeds, you can also make crackers from your Amish Friendship Bread starter. Coriander and sweet basil pair nicely in a loaf of Amish Friendship Bread, and would likely be a great combination for sourdough crackers as well. Experiment between the two recipes, and have fun!
Amish Friendship Bread Crackers
Amish Friendship Bread starter makes perfect crackers. They have just the right tang and a crisp bite.
Check out this recipe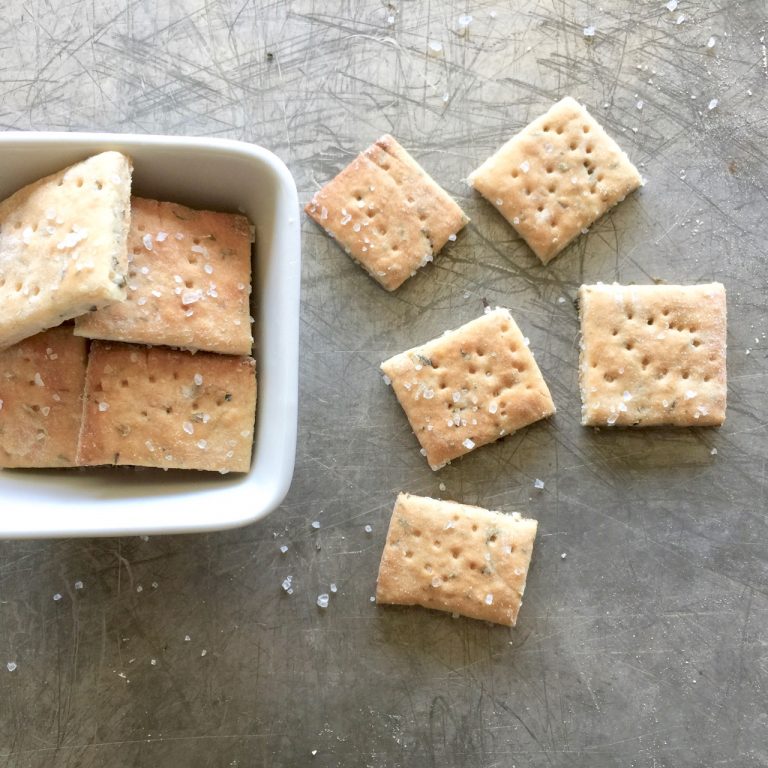 >> Have you tried this recipe? Share your best pic with us or leave a comment below and let us know how it worked for you!