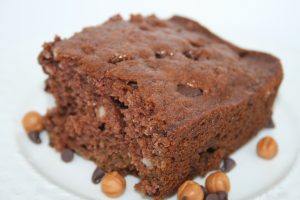 From the novel, Friendship Bread by Darien Gee p. 87
Image (c) Susan Buetow | Scraps of Life
"The brownie recipe that makes Hannah, a 'chocolate person', an Amish Friendship Bread fan for life."
Prep Time: 10 minutes
Cook Time: 45 minutes
Servings: 16
Yield: 9 x 13 pan
Ingredients

1 cup Amish Friendship Bread Starter
3 eggs
1 cup oil
1/2 cup milk
1 teaspoon vanilla extract
1/2 cup sugar
2 cups flour
3 teaspoons cocoa
1 1/2 teaspoons baking powder
1/2 teaspoon baking soda
1/2 teaspoon salt
1 small box Jell-O instant chocolate pudding
3/4 cup dark chocolate chips
1/2 cup semi-sweet chocolate chips
1 cup caramel bits
1/2 cup caramel bits to sprinkle on top
Directions
Preheat oven to 325° F (165° C).
Grease and flour 9″ x 13″ pan.
Combine the starter, eggs, oil, milk, vanilla extract, and sugar in a bowl. In a separate bowl, combine the flour, cocoa, baking powder, baking soda, salt, pudding mix, both kinds of chocolate chips, and 1 cup caramel bits and make a well in the center. Pour the wet ingredients into the well and incorporate until fully mixed.
Pour into prepared pan and sprinkle remaining 1/2 cup of caramel bits on top. Bake for 45 minutes to one hour, checking for doneness. When a toothpick inserted in the center of the brownies comes out clean, remove to a rack to cool.
ENJOY!
Kitchen Notes
From Karen Youngson: "I couldn't find the caramel bits so I use mini Rolos."
Image Gallery
L to R: Friendship Bread Kindle book (c) Susan Buetow | Scraps of Life; (c) Susan Buetow | Scraps of Life; Friendship Bread Australia edition