If you're making Amish Friendship Bread for the first time, you might be wondering exactly when you can use your starter. Do you really have to wait 10 days?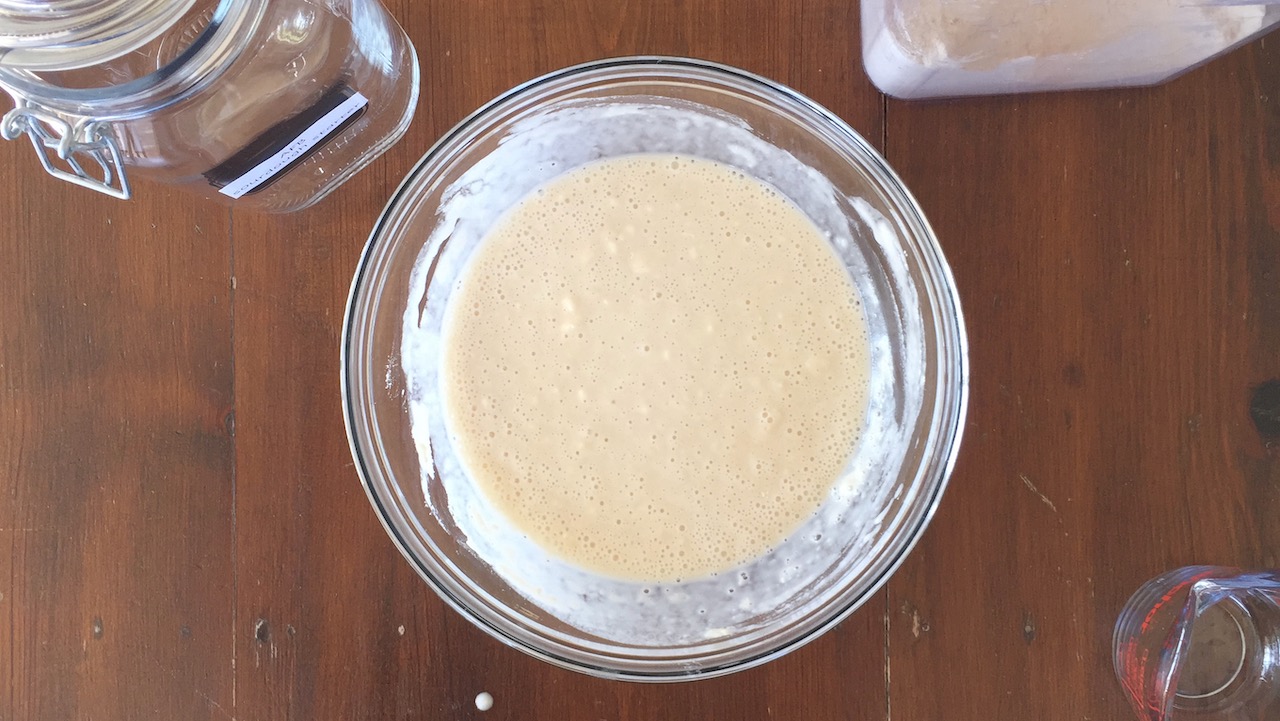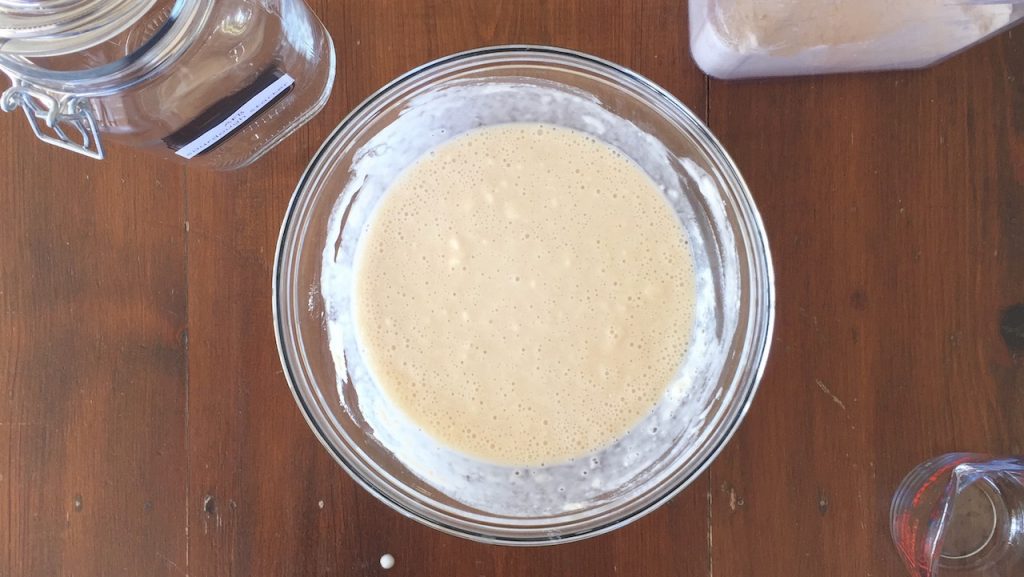 Or your question might look like any of the following:
"How soon before I can use my Amish Friendship Bread starter?"
"What happens if I bake with one cup after adding ingredients on Day 6?"
"I got my starter from a friend who said I could bake with it anytime. Is this true?"
"Once I go through the 10-day cycle, can I take out a cup anytime?"
"If I froze my starter, can I use it right away?"
How your starter works
Amish Friendship Bread starter is a type of sourdough starter, which means the yeasts in the starter feed off the sugars in the ingredients you add every 4-5 days. This fermentation staves off unhealthy bacteria and contamination (though your starter can spoil if not properly cared for), and gives rise and loft to recipes like this no-knead sourdough loaf or this sweet white sandwich bread.
What makes Amish Friendship Bread starter so special is that it keeps on giving–you could keep it on your counter indefinitely, removing a cup to bake with indefinitely. Like any sourdough starter, if you take good care of it, you'll always have yeast on hand, and it's easy to share with friends.
If you made your starter from scratch…
If you're making your starter from scratch, you'll want to go through one 10-day cycle to make sure your starter is off to a good start and has a chance to develop its signature sweet, tangy flavor. If you use it too soon, the flavor won't be as developed. Plus you risk depleting your new starter of some of the yeasts that's still trying to get a foothold in your starter.
You should see activity (bubbles) on the day you make your starter, and then again 4-24 hours after you feed it on Day 6. This tells you that your starter is on its way so that by Day 10, you'll be good to go.
If you're desperate for some cinnamon-sugar Amish Friendship NOW, try this no-starter recipe.
Recommendation: Wait until Day 10 before using your starter.
If you received your starter from a friend…
In theory, if you received an Amish Friendship Bread starter from a friend, it's already gone through at least one 10-day cycle, which means it's a mature starter.
However, if you want to make sure the starter is actually active, I recommend going through at least one feeding to make sure you see some bubbles before using it. You should also do a quick smell test to make sure nothing feels too off. There's nothing worse than a disappointing outcome to a recipe because the starter wasn't active.
If your friend tells you the starter is good and you can bake immediately, go for it. If he/she/they gave you one cup, then you will use it up and not have any left to keep for future use.
If you want to keep a starter going on your counter but also want to bake immediately, treat the day you receive your starter as Day 6. Feed the starter 1 cup flour, 1 cup sugar, and 1 cup milk. Mix well until there are no more lumps, and then remove one cup to bake with. Follow the instructions to keep your starter going daily.
If you see bubbles the following day after receiving your starter, you can bake with your starter. This tells you that your friend fed the starter on Day 1 (her Day 10), and the starter is happy and active. Follow the above instructions if you want to bake and keep a starter going.
If you don't see any bubbles the following day and you're not sure if your starter is active, wait until Day 6, do a feeding, and bake on Day 10.
In all cases, make sure you are giving your Amish Friendship Bread starter every chance to thrive! Keep it warm, stir daily (or mash the bag), feed it on time and at the proper ratios. You can read more about properly maintaining your starter here.
Recommendation: Wait one day to see if there are any bubbles or activity. If not, go through Day 6, do a feeding, and plan to bake on Day 7.
If you've gone through a 10-day cycle…
If you've gone through a 10-day cycle with your starter, whether you made it from scratch or received it from a friend, and saw bubbly activity the day of or after a feeding, guess what? Your starter is ready to be used whenever you want!
As long as you are feeding your Amish Friendship Bread starter at the proper ratios (1 cup of starter needs to be fed 1 cup flour, 1 cup sugar, and 1 cup milk; 2 cups of starter needs 2 cups flours, 2 cups sugar, and 2 cups milk. Too much? See this post on keeping a smaller starter or this post on freezing your starter), you can remove a cup whenever you are ready to bake. Just remember that some of the traditional sourdough recipes may require an active/recently fed starter that's bubbly in order to give your bread a good rise, otherwise you can use a cup at any time.
If you want to bake a recipe that requires a rise, then be sure to use your starter when it's most active, usually a day or two after a feeding. Other than that, you are ready to bake!
Recommendation: Bake anytime!
If you thawed frozen starter…
If you want to bake one recipe that doesn't require an active rise (like the more traditional sourdough recipes mentioned above), you can remove one bag of starter from your freezer, let it thaw, and bake with it. You may or may not see bubbles, but it should smell yeasty. You can use your starter to make most of the cakes, sweet loaves, cookies, scones, pancakes and waffles, and other fun recipes in the Friendship Bread Kitchen Recipe Box.
The only caveat is that you should be confident that your frozen starter was active before you froze it. If you froze a hungry or inactive starter, that's what you'll have when you take it out of the freezer.
And the same rule applies as above about sourdough breads that require a rise. Most frozen starters need to go through one feeding in order to get back all its frothy happiness to make your bread making a success.
To learn more about freezing your starter, check out this post. Need to figure out how to revive a frozen starter? Then read this post.
If you're not confident if your starter is in good shape, treat it like Day 6 and do a feeding of 1 cup flour, 1 cup sugar, and 1 cup milk and give it a day or two. If confident your starter's in good shape, choose your recipe and get baking!
Recommendation: Bake anytime!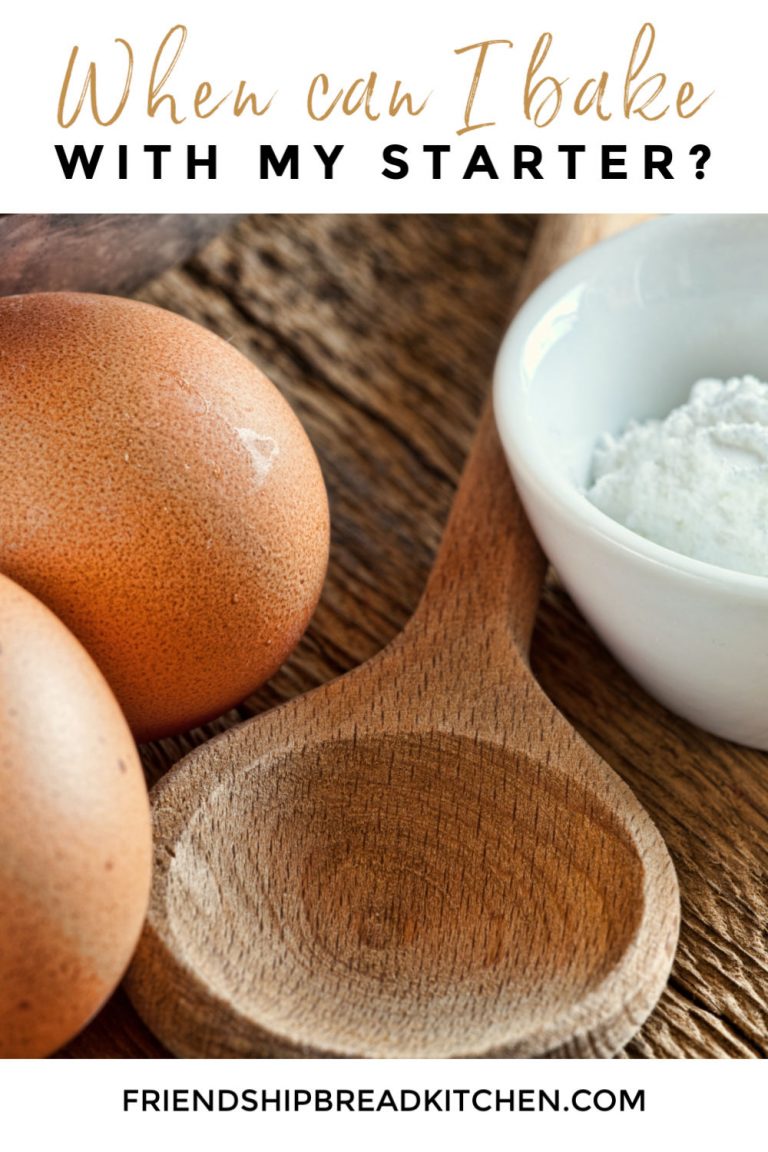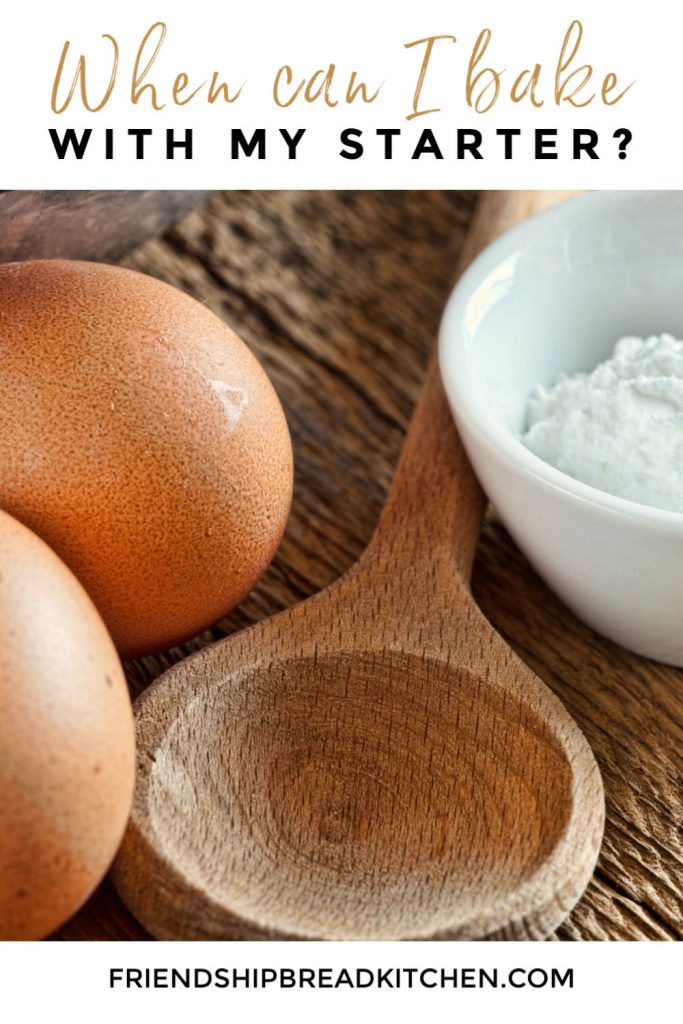 Still have a question about when you can use your starter? Feel free to post it below. ❤️