These sweet and lightly frosted Amish Friendship Bread Hot Cross Buns are another great way to use up your starter while celebrating one of the most popular holidays of the year. Reminiscent of family dinners at Easter, these sweet treats are amazing, right out of the oven.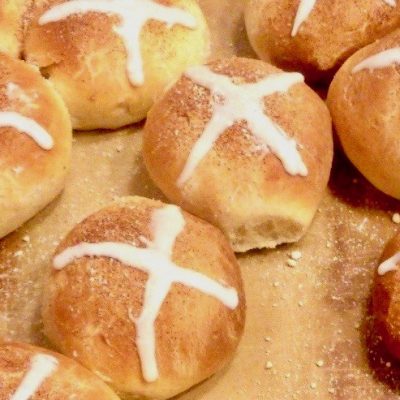 Amish Friendship Bread Hot Cross Buns
These sweet and lightly frosted Amish Friendship Bread Hot Cross Buns are another fun recipe, perfect for Easter dinner.
Ingredients
3

cups

flour

(plus extra if needed)

1

cup

milk

(plus 1-2 tablespoons if needed)

1

teaspoon

dry yeast

1¼

teaspoon

salt

1

egg

beaten

6

tablespoons

butter

melted

½

teaspoon

vanilla extract

1

teaspoon

cinnamon

¼

teaspoon

ground allspice

or ground cloves

¼

teaspoon

ground nutmeg

½

cup

raisins or currants

⅓

cup

candied lemon peel

roughly chopped, or mixed dried fruit

1

cup

water or rum for reconstituting fruit
Topping
1

egg white

1

tablespoon

milk
Icing
Instructions
In a large bowl, add starter, milk, yeast, salt, butter, egg, vanilla extract, cinnamon, allspice, and nutmeg. Let rest for one hour.

While the batter is resting, soak the raisins or currants in water or rum to soften. Oil a large mixing bowl and 10"-square baking pan. Set aside.

Add 2 cups of bread flour to the large bowl of ingredients and mix until combined and dough is soft, adding additional milk if needed.

Drain the fruit from the liquid and add to the batter bowl along with chopped lemon peel or dried fruit.

Knead in up to another cup of flour until the dough is smooth and soft.

Add dough to oiled bowl and cover. Let rise in a warm place for 1-2 hours.

Grease your hands and split the dough into 12 portions. Form dough into round balls.

Place rolls on baking sheet and let rise for another 1-2 hours, until they're puffy and touch one another.

Preheat oven to 400° F (200° C). Whisk together egg white and milk, and brush over buns.

Bake for 15 to 20 minutes until the tops are light golden brown. Remove from oven and carefully burns out of pan and transfer to a cooling rack.

Prepare Vanilla Glaze using less liquid so the glaze is thick. When buns are cool, use a spoon to drizzle the tops to form a cross.
>> Have you tried this? Share your best pic with us or leave a comment below and let us know how it worked for you!