The combination of rum and chocolate in this Double Chocolate Rum Amish Friendship Bread recipe is wonderful for the holidays. Thanks to Kitchen Friend Veronica Miller for submitting this decadent recipe!
Want to share a gift with someone? Wrap up these mini loaves and give them to friends, neighbors, or teachers!
Kitchen Friend Michelle Sears tried different brands of Rum for different flavors: "I used Bacardi Select and the rum flavor came through really nicely. For another batch I used Whaler's Original Dark Rum but wished I'd thrown in some rum flavoring. It smelled more like straight alcohol than rum."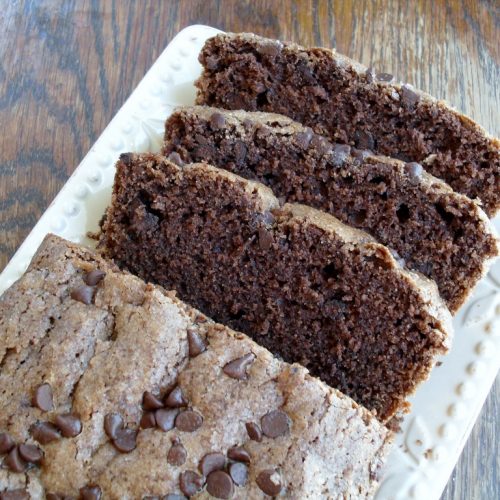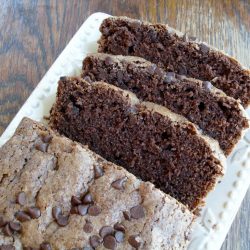 Double Chocolate Rum Amish Friendship Bread
Our Double Chocolate Rum Amish Friendship Bread recipe makes great mini loaves for the holidays!
Instructions
Preheat oven to 325° F (165° C).

Combine ¼ cup sugar and 1 tablespoon cinnamon in a small bowl.

Generously butter two loaf pans, then dust with the cinnamon sugar. Tap out excess and save for topping. Set aside.

In a mixing bowl, whisk the eggs into the starter, then whisk in the oil and rum. Add everything but the chocolate chips and whisk until blended.

Stir in 1 cup chocolate chips.

Divide batter between pans, then sprinkle remaining cinnamon sugar over the tops.

Sprinkle mini chocolate chips over the top and bake for an hour or until the bread loosens evenly from the sides and a toothpick inserted in the center of the bread comes out clean.

Cool in pans for 10 minutes, then turn out to cool completely on wire rack.

ENJOY!
>> Have you tried this? Share your best pic with us or leave a comment below and let us know how it worked for you!