Kitchen Friend Heidi Kleyn from Vicksburg, MI came up with this fabulous soft pretzel recipe using your 1 cup of Amish Friendship Bread starter. This is a great way to use any leftover starter, or if you're looking for something fun to serve on Super Bowl Sunday.
"Make a tasty dipping sauce with half mustard and half mayo," Heidi suggests. "These are really great if you eat them warm. Instead of the kosher salt, try topping with sesame seeds, poppy seeds, dried onion or dried garlic." This recipe can also be used to make breadsticks — just leave them straight instead of twisting into a pretzel-shape.
A quick note: I only share links that I love and personally use. This post contains affiliate or commission links which support the Friendship Bread Kitchen if you click or buy. Thank you!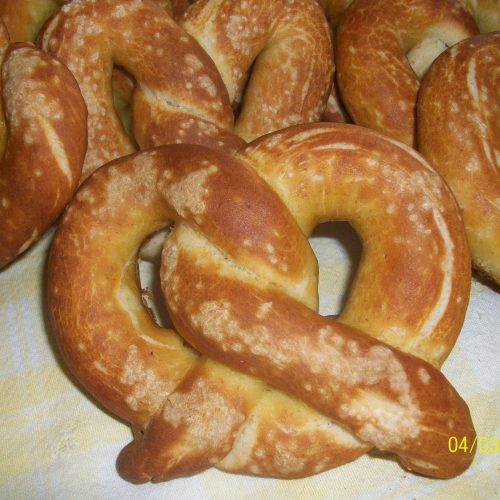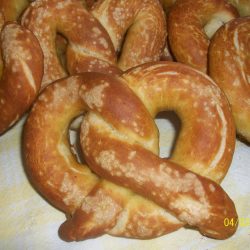 Amish Friendship Bread Soft Pretzels
The perfect game day snack! Use your one cup of Amish Friendship Bread starter to make these soft and chewy pretzels.
Instructions
In a stand mixer bowl with dough hook, add starter, water and yeast. Let sit for 5 minutes.

Add rest of ingredients into mixer bowl and mix until dough pulls away from the sides and a ball forms.

Grease a bowl, put in ball of dough and cover with plastic wrap.

Let dough rest and rise for 1 hour. It won't rise very much.

Lightly oil work surface and place dough.

Divide dough into 12 equal pieces.

Roll out each piece to about 20 inches. Use fingers to roll from inside to outside.

Take dough and make a U-shape and then cross, bringing it down to form a pretzel. Press dough together so it stays together.

Get 8 to 10 cups of water and 1 teaspoon of baking soda simmering on the stove top.

Place one pretzel at a time in the simmering water for 1 minute.

Remove with slotted spoon.

Place pretzels, spaced out on a greased pan and sprinkle with kosher salt.

Preheat oven to 400° F (200° C).

Bake for 18 to 20 minutes, turning and switching the pretzels once during baking.

Remove to cooling rack. Bottom of pretzels will be harder and chewier.
>> Have you tried this? Share your best pic with us or leave a comment below and let us know how it worked for you!!