These thin and crispy Amish Friendship Bread Mexican Buñuelos make a sweet afternoon snack. This fun recipe was shared with us by Kitchen Friend Joleen Waltman. Drizzle with honey butter, and enjoy!
Kitchen Friend Joleen Waltman offered great tips on making these fun treats: "Buñuelos are popular in Latin-American countries. They are typically made thin and crispy. They are pronounced as (boon-wel-los). One trick to get the tortillas thin enough is to lay the dough between two pieces of greased wax paper and then roll out. The oil gets hot and can splatter. Gently put the dough in the oil from front to back of the pan."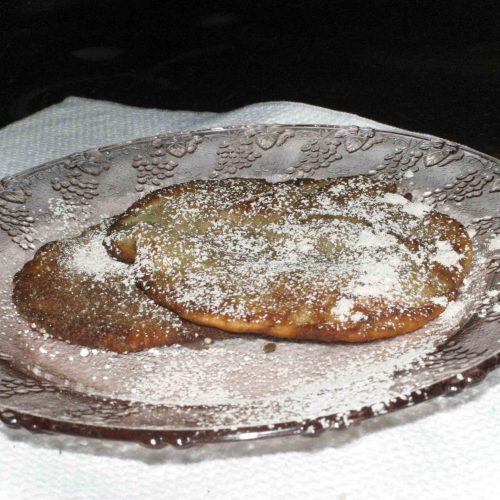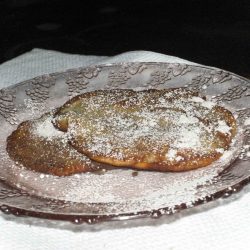 Amish Friendship Bread Mexican Buñuelos
This recipe makes thin and crispy Amish Friendship Bread Mexican Buñuelos, a perfect afternoon snack. Drizzle with honey butter, and enjoy!
Ingredients
Honey Butter Topping
⅓ cup powdered sugar
2 tablespoons cinnamon
⅓ cup honey
2 tablespoons butter melted
Instructions
Pour ½ inch of oil in skillet.

Heat on medium-low heat.

In a bowl, mix together dry ingredients, flour, sugar, baking powder, and salt.

Cut in shortening with a pastry blender or a fork.

Add starter into bowl and mix together until a ball is formed.

Add in sugar, rapadura or honey.

For the topping, mix together cinnamon and powdered sugar or honey and melted butter.

Divide a golf-ball sized piece of dough and roll out on a floured surface with a rolling pin as thin as you can or about 1/16 inch thick.

When oil is hot, add in flatten dough.

Fry for about 20-45 seconds or until a light golden-brown.

Flip over carefully and cook another 20 to 45 seconds.

Remove from oil and place on a serving plate.

Combine ingredients for the honey butter topping.

Sprinkle Buñuelos with cinnamon sugar mixture or drizzle with honey butter.

Serve warm.

ENJOY!
>> Have you tried this? Share your best pic with us or leave a comment below and let us know how it worked for you!